Courtesy of Sharone Hakman www.sharonehakman.com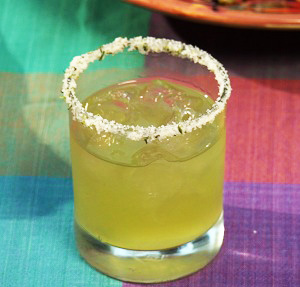 Makes about 24 ounces/750 ml
1 lemon, for zest
1 lime, for zest
1 orange, for zest
3 ounces (90 ml) agave nectar
2 sprigs fresh rosemary
1 fifth (750 ml) silver tequila
1. Fill and preheat the water oven to 165F/74C.
2. With a sharp vegetable peeler, remove strips of zest from the lemon, lime, and orange.
3. Put the zest and all remaining ingredients into a large (gallon/3.8 liter) zip-closure cooking pouch and slowly submerge to remove most of the air from the pouch and zip it closed.
4. Submerge the pouch in the water oven and cook for 30-45 minutes. (The longer you leave it, the more the flavors will intensify.)
5. Remove the pouch from the water bath and quick chill it, submerged in an ice bath (half ice/half water) for 15 to 20 minutes.
6. Strain the infusion through a fine mesh sieve and discard the solids.
7. Pour the infusion into a clean bottle (the tequila bottle works well), recap tightly, and store in the refrigerator until serving.
8. Serve chilled, straight up or over ice, or with your favorite margarita mixers.