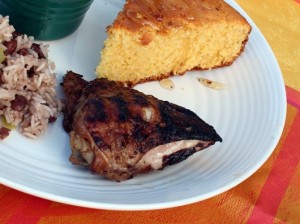 Courtesy of Tom and Linda Ryalls (svkitchen.com)
Serves 4 to 6
½ cup (120 ml) spiced rum, such as Captain Morgan
¼ cup (60 ml) soy sauce
¼ cup (60 ml) cider vinegar
Juice and zest of 4 limes
¼ cup (50 g) dark brown sugar
1 tablespoon (15 ml) black peppercorns, cracked
1 teaspoon (5 ml) ground allspice
1 teaspoon (5 ml) ground nutmeg
1 teaspoon (5 ml) ground cinnamon
½ teaspoon (2.5 ml) ground cloves
4 teaspoons minced garlic
2 teaspoons (10 ml) minced ginger
6 scallions (green and white parts), sliced
3 Scotch bonnet or habañero chiles, coarsely chopped
12 skin-on, bone-in chicken thighs
Vegetable oil (for grilling)
Directions
1. Fill and preheat the water bath to 152F/67C.
2. In a small saucepan, bring the rum to a low boil over medium heat. Immediately remove the pan from the heat and with a long wooden match or a lighter, ignite the rum to burn off the alcohol. Be very careful when doing this! Let the flame burn itself out, usually about 60 to 90 seconds. Allow to cool slightly.
3. In a large bowl combine the rum with the remaining ingredients except the chicken thighs and vegetable oil.
4. Put 6 chicken thighs in a single layer in each of 2 large (gallon/3.8 liter) zip-closure cooking pouches. Add half of the contents of the bowl to each pouch.
5. Evacuate the air from the pouches, using the displacement method (Archimedes Principle) and zip the seal.
6. Submerge the pouches in the water oven and cook for 4 hours.
7. If you don't plan to serve the chicken right away, remove the pouches from the water oven and quick-chill them in an ice-and-water bath, adding more ice as necessary, then refrigerate the bags until ready to use, up to 48 hours. Re-warm them in the pouch in the preheated water oven for 45 minutes before finishing.
Finishing
1. If you plan to finish the chicken on a barbeque or outdoor grill, light the coals or preheat the clean, well-oiled grill 15 to 20 minutes before removing the chicken from the water bath. (Tip: If desired, a minute or two before transferring the chicken to the grill, add a large handful of dry hickory chips to the hot coals to get lots of smoke. All that smoke gives the food a depth of flavor that approximates an extended time on the barbeque.)
2. Remove the pouches from the bath and allow to cool for a few minutes, then transfer the chicken to a platter or cookie sheet, discarding the bag juices.
3. Blot the skin side of the thighs dry with paper towels, then brush with a light coating of vegetable oil.
4. Place the thighs on the hot grill skin-side down and sear until the skin is browned and crisped, about 3 or 4 minutes. Turn and cook on the other side for 1 to 2 minutes.
5. In the winter or on a rainy day, you can also brown and crisp the skin under a hot broiler.