Hot Spiced Cider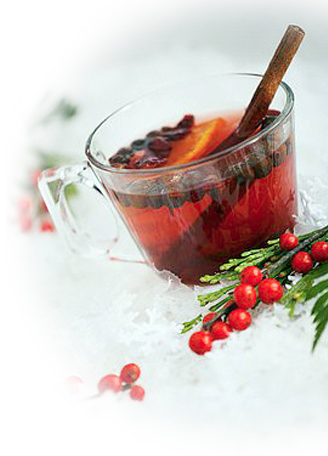 Nothing takes the chill off better on a cold winter's night than a cup of hot spiced cider! Except maybe if you add a tot of bourbon to it! This sous vide version is so easy it will leave you with plenty of time to sit before the fire and contemplate the sugar plums dancing in your head.
Makes about 1 quart/0.9 liter
(Use it on its own or to make the Spiced Cider Toddy hot cocktail.)
INGREDIENTS
1 orange
1 quart (0.9 liters) apple cider
2 ounces (60 ml) brandy (VS or VSOP quality level)
1/2 cup (120 ml) honey
1/2-inch (1.25 cm) piece peeled ginger root
6 allspice berries
3 cloves
1 cinnamon stick (about 3-inches/7.5 cm)
1 star anise pod
DIRECTIONS
Fill and preheat the SousVide Supreme water oven to 140F/60C.
Carefully remove the peel of the orange with a vegetable peeler and scrape any remaining white pith away with the edge of a paring knife.
Combine all of the remaining ingredients in a large (gallon/3.8 liter) zip-closure cooking pouch and use the displacement method (Archimedes Principle) to remove the air and zip the seal. Submerge the pouch in the water oven to infuse for 1 hour.
Open the pouch carefully and give the infusion a taste to determine if the level of spice and sweetness are to your liking. For more spice, let the infusion continue to cook for another 30 minutes. If you'd like more sweetness, add more honey by the tablespoon, whisk to combine, and proceed.
When you're happy with the flavor profile, open the pouch and strain the infusion through a fine mesh strainer to remove solids; discard solids.
Return the infused cider to the pouch, again use displacement to remove air, zip the seal and leave the cider in the water oven to keep warm for serving.
Delicious as is, in a warmed mug, for a mainly non-alcoholic holiday treat or use it to make the Spiced Cider Toddy (below).
Spiced Cider Toddy
Makes 8 servings
2 cups (480 ml) bourbon
1 orange, thinly sliced (8 thin slices)
Whole cloves, for studding the orange slices
Put 6 ounces (180 ml) of the infused cider and 2 ounces (60 ml) of the bourbon into each warmed mug
Float one studded orange slice on top
Serve hot.