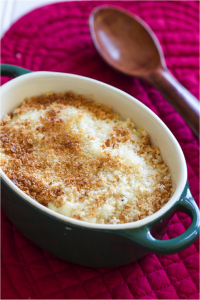 Courtesy of SousVide Supreme Culinary Professional, Sophie
Serves 2 -4
INGREDIENTS
3 cups (350 g) diced rutabagas/Swedes or turnips
1 tablespoon (30 ml) molasses or treacle
½ teaspoon (2.5ml) ground ginger
¼ teaspoon (1.25 ml) ground nutmeg
1 egg, beaten
Salt and pepper, to taste
¼ cup (60ml) cream
¼ cup (15g) breadcrumbs
1 tablespoons (15ml) butter
DIRECTIONS
Fill and preheat the SousVide Supreme to 185 F/85 C.
Put the diced rutabagas, treacle, ginger and nutmeg into a large food-grade cooking pouch and vacuum seal the pouch.
Submerge the pouch in the water bath to cook for 1 hour.  (You can do this up to a couple of days in advance.  If delaying finishing, quick chill the pouch, submerged in ice water, for 20 minutes and refrigerate.)
Position a baking rack into the water oven and arrange ramekins/ small serving dishes in the water oven, fill them with water, and add enough water to the bath so it reaches half way up the ramekins.
Remove and dry the ramekins/serving dishes and butter them inside.
Set the water oven to 185F/85 C.
Divide the rutabaga mixture among the ramekins/serving dishes. Cover or tent foil over the ramekins to avoid condensation.
Carefully put the ramekins onto the baking rack in the water bath and let cook for one hour. (This step, too, can be done in advance; let he dish cool and refrigerate for up to a day before proceeding.)
When ready to finish, scatter the remaining breadcrumbs on top of the dishes and dot with the butter.
Heat the broiler to high heat and brown the tops of the lanttulaatikko (about 5 minutes) to a golden color.
Serve as a festive side dish at Christmas.
Share This Recipe with Friends!