Courtesy of Chef Jason Wilson (Crush, Seattle, WA)
Serves 4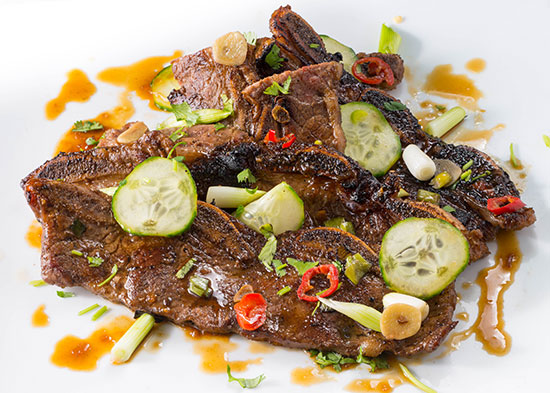 INGREDIENTS
16 "Korean Style" crosscut beef short ribs
2 cups (320 g) cooked rice, for serving
Kimchi, for serving
For the marinade
2 tablespoons (30 ml) sesame oil
2 tablespoons (25 g) brown sugar
1 ½ teaspoons (7.5 ml) chile flakes
1 tablespoon (9 g) chopped garlic
½ cup (120 ml) soy sauce
¼ cup (15 g) chopped green onions
¼ cup (60 ml) orange juice
DIRECTIONS
In a pan on the stovetop, simmer the garlic in sesame oil for 2 minutes on medium high heat; add the remaining ingredients while warm and stir together to make a marinade.
Put the beef ribs into a baking pan and pour the marinade over them. Allow to marinate for an hour, covered and refrigerated, flipping the ribs every 15 minutes.
Meanwhile, fill and preheat the SousVide Supreme water oven to 138F/59C.
Remove the ribs from the marinade (reserve it) and shake of any excess.
Put the ribs, four to a pouch, into four cooking pouches and vacuum seal on the Moist setting, if available. (If not, take care to watch while vacuuming and manually force the seal before any liquid makes its way into the suction chamber.)
Submerge the pouches in the water oven and cook for 3 hours.
Meanwhile, put the reserved marinade into a pan and bring it to a boil. Cook for 15 to 20 minutes, until slightly reduced.
When the ribs have cooked, remove them from the water bath and pouch and brush them with some of the reduced marinade.
Finish the ribs on a well-oiled hot grill or grill pan or under a broiler, a minute or two on each side, to achieve a second texture and caramelize the marinade.
Serve with rice and kimchi or remove the meat from the bone to make a delicious sandwich!
Share This Recipe with Friends!