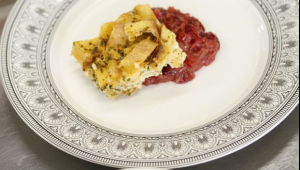 Makes
INGREDIENTS
2 cups chicken broth
1 cup yellow corn meal
2 teaspoons poultry seasoning
1 teaspoon salt
½ teaspoon black pepper
5 tablespoons butter
½ green bell pepper, seeded and diced
2 ribs celery, diced
½ sweet onion, peeled and diced
1 egg, beaten
4 cups dried bread cubes
DIRECTIONS
Preheat SousVide water bath to 185°F/85°Cut the chicken broth into a medium saucepan and stir in the corn meal.
Stir together the broth and corn meal over medium high heat, stirring often, and cook for about 5 minutes until thickened.
Stir in the seasonings and 3 tablespoons of the butter and set aside to cool.
In a saucepan over medium high heat, melt the remaining butter.
When foaming, add the diced bell pepper, celery, and onion and cook until the celery and bell pepper are tender and the onion translucent.
Remove from heat
In a bowl, combine the beaten egg, the sautéed vegetables, the bread cubes, and the cornmeal mush, stirring to combine well.
Put the stuffing mixture into a gallon (large) food-grade, plastic pouch, vacuum as much air out as possible, and seal.
Cook for at least 1 hour, but up to 3 hours.
Spoon stuffing directly out of pouch into a warm serving bowl when ready to serve.