Tips and Tricks for Optimal Sealing of All Foods
Allow ample room at the top of the pouch; do not overfill.
Position food evenly in the pouch, in a single layer, if possible.
If the pouch does not collapse around the food when you press vacuum/seal, press cancel to stop the process, reposition the pouch and/or food within the pouch, and try vacuum sealing again.
If the pouch deflates, but the red Seal light does not illuminate, press Seal Only to trigger the sealing process.
Store your vac sealer in the unlocked position to prevent compression of the foam sealing ring.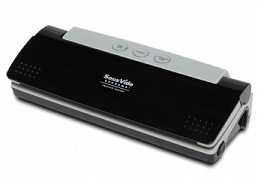 Tips and Tricks for Sealing Moist Foods
Watch the pouch as it collapses around the food; when moisture begins to climb the pouch, press Seal Only to trigger the seal before the moisture reaches the chamber.
If moisture gets onto the ribbed sealing surface, wipe it dry before storing
For sealing liquids or liquid-rich foods, we recommend using the Archimedes principle with our SousVide Supreme Zip Pouches or for really heavy duty use, a SousVide Supreme Chamber Vacuum (only available in US & Canada).