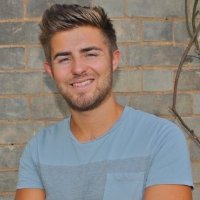 At just 21, Jack Lucas took the culinary television world in the UK by storm with his good looks and boyish charm.  On a path that is somewhat unusual — from 1st Class Honors at Exeter University (in Geography, no less!) to finalist on MasterChef UK in one giant step–it looks like his culinary star is most definitely on the rise.  We were thrilled that he could recently take time out of a very busy schedule to chat with us about the world of sous vide cooking.  Here's Jack's take on it…
SVS: We first came across you as a finalist on MasterChef UK. What was your experience like on the program and was this the first time you were introduced to sous vide cooking?
JL: The experience I had on MasterChef was definitely the best of my life! We had this fantastic opportunity to learn and develop as cooks and I was just so pleased to experience it right the way to the end. Whilst I had heard about sous vide cookery I had never actually used it until MasterChef, when I saw Tom Kerridge using it when cooking his venison dish. I was amazed by the consistency and quality it delivered. If I was to do MasterChef again, I would use it in every round!
SVS: You are a geography graduate, which seems a long way from the kitchen. How did you become so passionate about cooking?
JL: I always had a passion for cooking but never really knew what I wanted to do when I was older, so Geography was the route I went down at University. Throughout my time in Exeter I would cook regularly and that's really when I learnt to cook properly.
SVS: How do you feel the SousVide Supreme compares to other sous vide cooking devices? What are the additional benefits the products offer?
JL: There are many sous vide cooking devices on the market, but I love the fact that it is larger than most models. This means you can really make the most of it and cook larger joints of meat or cater for more of your friends.
SVS: What are your favorite recipes that you cook sous vide?
JL: I love to cook meat in the sous vide, simply because the texture is infinitely better than any other cooking method and also the fact that you don't have to worry about cooking times. As long as I know the temperature I'm after, I can just leave it to do its thing until I need it and that takes a lot of stress out of cooking!
SVS: We understand you have a SousVide Supreme water oven in your kitchen.  Do you plan to use it for festive entertaining this Christmas?  If so, which meals do you have in mind – would you attempt a Christmas dinner and if so, what are your top tips for our readers?
JL:  Absolutely!  I'm not the biggest fan of turkey, as the dry, chewy breast usually lacks flavor. But I've already cooked turkey in the sous vide and getting the cooking just right [with this method unlike others] means a real hit of flavor and beautifully tender meat. I would definitely attempt a [sous vide] Christmas dinner, but I would actually substitute something more gamey like duck, goose, or venison for the turkey. I'd cook this in the water bath or [perhaps] do a large joint, like rib of beef! Personally, I think the taste [of all these] is far superior to turkey, which is often hugely overpriced at Christmas.
SVS: Do you follow a particular style and influences in cooking or do you prefer to experiment with new flavors, ingredients etc?
JL: I love to experiment, but there's a limit nowadays to what truly 'new' cooking looks like, as the chances are it has been done somewhere before. I probably base a lot of my food on Mediterranean flavours, but I've also developed a real love for Asian food!
SVS: How do you feel the SousVide Supreme can benefit our community of sous vide home cooks?
JL: The SousVide Supreme is the perfect size for the home cook and delivers fantastic results and so far it gets used at least twice a week in my kitchen. I think it's an invaluable tool that can be hugely beneficial to even the home cook.
SVS: Do you feel that sous vide cooking is here to stay – what are your thoughts on future flavors and cooking styles?
JL: For me personally, as long as we continue to eat meat and veg as we see it today, a sous vide [appliance] will continue to be used in my kitchen! There is categorically no method of cooking that delivers better results on such a consistent basis.
SVS: What is the most unusual ingredient or meal that you have cooked using the sous vide method?
JL: I haven't actually cooked anything hugely unusual in it so far. I am going to experiment with making a chicken liver parfait/pate in there to ensure that none of the mixture is overcooked or becomes grainy, which can happen when you cook it conventionally, but I'm not too sure how it will turn out!
SVS: What are your plans for the future – do you intend to continue to explore your work as a chef?
JL: I've had a fantastic opportunity so far and it would be a huge shame not to do something food-related! I'd love to gain a little more experience at some point and would love to bring out a book too. SVS:  Generous Jack shares his recipes with us for:  Loin of Venison,  2-Day Epic BBQ Ribs, Lamb Rump Steak, or his Confit of Cod.