Masala Chai Crème Brûlée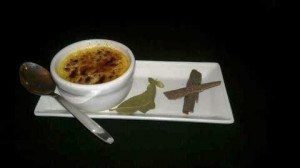 Courtesy of Chef Sam Hussain (caferickshaw.com)
Serves 4
INGREDIENTS
3 cardamom pods, lightly split
2 sticks (2 inches/5 cm each) cinnamon
3 bay leaves
Butter for greasing ramekins
2 cups (480 ml) heavy cream
2 Darjeeling tea teabags (or loose tea, in an infuser)
4 egg yolks
4 tablespoons (48 g) sugar
1 teaspoon (5 ml) pure vanilla extract
4 teaspoons (20 ml) granulated or brown sugar (for finishing)
DIRECTIONS
Fill and preheat the water oven to 183F/84C.
Put the cardamom pods, bay leaves, and cinnamon sticks into a small muslin spice bag, if possible, or tie in cheesecloth.
Generously butter the interior of the ramekins you will use and set aside.
Whisk (or blend) together the cream, egg yolks, vanilla extract and sugar until blended well.
Put the cream mixture, tea bags, and spice bundle into a large (gallon/3.8 liter) zip-closure cooking pouch and use the displacement method (Archimedes principle) to remove the air and zip the seal.
Submerge the pouch in the water bath to cook for 30 minutes; agitate/shake the pouch half way through ensure even cooking .
Remove the pouch from water bath and knead to distribute the liquid mixture evenly.
With a scissors cut a small corner off the pouch and pour evenly into the prepared ramekins.
Refrigerate for at least 4 hours (up to 8 hours is fine.)
When ready to serve, sprinkle each serving with 1 teaspoon (5 ml) of brown sugar and caramelize with a kitchen torch or under a pre-heated broiler.