Rack of Lamb with Herb Butter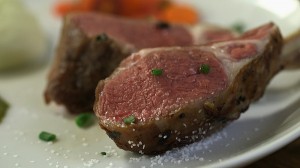 Serves 4
INGREDIENTS
For the lamb
2 lamb racks, Frenched
Salt and pepper to taste
finely minced fresh rosemary or herbes de Provence
For the herb butter
2 tablespoons (30 ml) butter
1 clove garlic, peeled and pressed
1/2 teaspoon (2.5 ml) onion powder
1 teaspoon (5 ml) fresh rosemary leaves, minced
1 teaspoon (5 ml) fresh chives, minced
1 teaspoon (5 ml) fresh mint, minced
1 tablespoon (15 ml) grated Parmesan
INSTRUCTIONS
Fill and preheat the SousVide Supreme water oven to 134°F (56.5°C).
Sprinkle both sides of the racks or chops liberally with salt, pepper, and rosemary.
Put each lamb rack into a small (1 quart/.9 liter) food-grade cooking pouch and vacuum seal.
Submerge the food pouches in the water bath and cook for at least 2 hours (and up to 4 hours will not affect the texture of the meat.)
Finishing the lamb
At the end of the lamb's cooking time, melt the butter and combine with all remaining herb butter ingredients.
When ready to serve, remove the lamb from the pouches, pat the surface dry, and brush all over with the herb butter mixture.
Sear the lamb quickly on one side in a hot skillet or for about 3 minutes under the broiler. (Sear the rack meaty side down in the skillet or meaty side up under the broiler.)
Slice the rack into chops and serve.
Suggested accompaniments: Cauliflower Puree, Fresh Pea Puree and Minted Heirloom Baby Carrots