Fresh Pea Puree

Serves 4 or more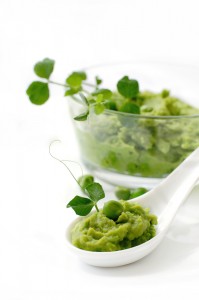 Ingredients
1 recipe cooked Fresh Green Peas
1/2 to 1 cup (120 to 240 ml) chicken or vegetable broth (you may not use it all)
Salt and pepper to taste
Instructions
Put the cooked peas and about 1/4 cup (60 ml) of the broth into a blender and puree.
Add more broth, a splash at a time, until the puree is smooth and reaches the desired consistency–thicker or thinner as the occasion demands. (All the whole cup or even a second cup and you'll have a lovely, velvety green pea soup!)
Check the seasoning level and add more salt or pepper, if needed.