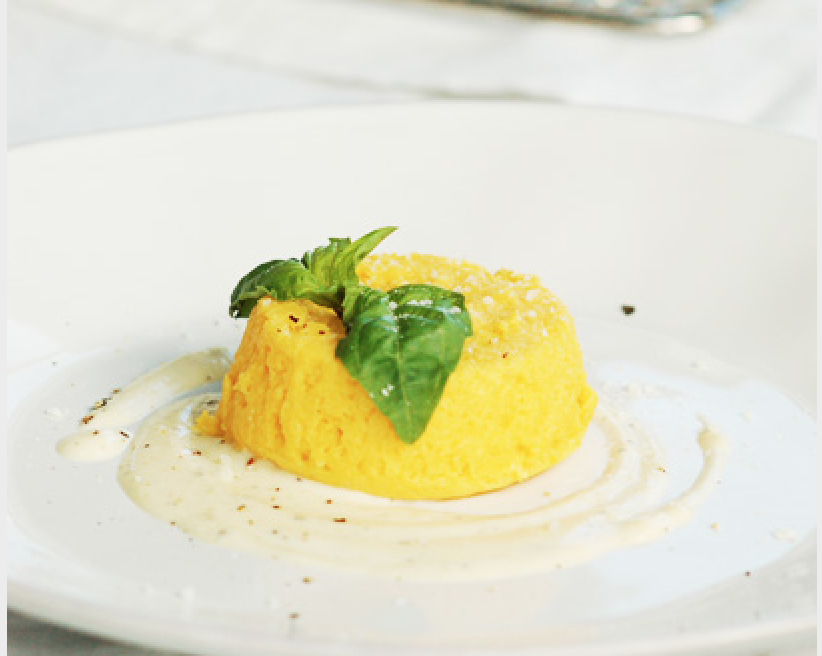 Yields 6 servings
Courtesy of SousVide Supreme Culinary Specialist Madeline Fiori
INGREDIENTS:
For the Sous Vide Squash:
1 small butternut squash, peeled, deseeded and diced into 1 inch ( 2.5 cm)
For the Squash Sformato:
2 cups (480 ml/454 g) Sous Vide cooked, pureed butternut squash
1 tablespoon (14 g) unsalted butter, room temperature, plus more for ramekins
¼ cup (60 ml) heavy cream
1 ounce (28 g) grated parmesan
2 eggs, divided
1/8 teaspoon (0.6 ml) sea salt
INSTRUCTIONS:
For the squash:
1) Fill and preheat the SousVide Supreme to 190F/87C.
2) Put the prepared raw squash into cooking pouches and vacuum seal in a single layer.
3) Cook in the water oven for one hour.
4) Remove and puree in a food processor until smooth.
5) Measure out 1 pound (454 g) for the Squash Sformato and put into a bowl, keeping warm for the Squash Sformato recipe below. Chill and freeze the remaining puree for a later use.
For the Squash Sformato:
1) Adjust the water level of the SousVide Supreme for baking as follows:
a) Elevate the bottom perforated grill about 1 inch (2.5 cm) on a non-rusting baking rack or baking platform.
b) Fill 6 ramekins ¾ full with water and set them onto the rack.
c) Adjust the water level by adding or removing water to bring the water level to within ½ inch (1.25 cm) of the rim of the ramekins.
d) Remove the ramekins and dump out the water. Dry the ramekins; brush each with melted butter and set aside.
2) Preheat the water oven to 195 F/90.5C.
3) Take the warm pureed squash and stir in the butter, heavy cream, parmesan, egg yolks and salt, set aside.
4) Using an electric mixer or by hand, whip the egg whites until stiff peak.
5) Fold one third of the whipped egg whites into the squash mixture at a time. Making sure not to over stir and deflate the mixture.
6) Spoon the batter into the prepared ramekins.
7) Set the ramekins into the water oven on the raised grill, taking great care not to get water into the batter.
8) Tent a square of aluminum foil over the ramekins to divert drips from the lid.
9) Bake for 1 ½ hours to 2 hours.
10) Remove the sformati and let cool on a rack for a few minutes, until you can easily touch the ramekin without burning your fingers.
11) Using an offset spatula, loosen the sformato, flip the ramekin over onto your serving plate swiftly and tap the bottom of the ramekin gently to release. Serve with your favorite sauce.