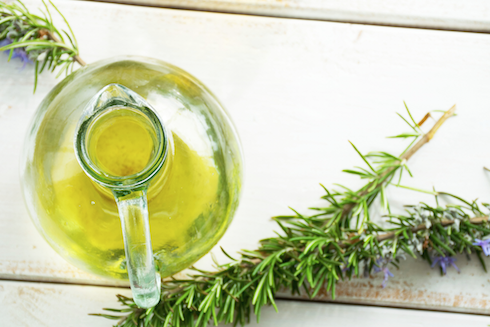 This summer preserve the sunshine with SousVide Supreme by infusing olive oil with your favorite herbs and spices. Instantly add a burst of flavor to your meals by drizzling sous-vide-infused oil over risotto, meat, fish, poultry, vegetables or fresh berries.
A SousVide Supreme water oven is the perfect tool for infusions because it injects full flavor into the oil in just a few hours, as opposed to having to let the mixture sit for several days at room temperature or altering the flavor of the olive oil by heating too vigorously on a traditional stove-top. In just three short hours you will have oil that is intensely flavored.
It is very important when infusing oil that you use clean and dry herbs, because of a dangerous microorganism known as Clostridium botulinum. This microorganism, found in soil, can be present on fresh produce—especially roots or bulbs, such as garlic. In a moist, nutrient-rich, airless environment, it can grow and produce the toxin that causes botulism. Therefore, steer clear of fresh herbs and garlic; instead purchase dried herbs or better yet dry your own. Growth of C. botulinum is hampered by high concentrations of sugar, salt, and acid, so these precautions are less important when infusing sugar syrups or vinegars. Oil, however, is a very good environment for its growth, so an added measure of care is needed when infusing oils.
Drying your own herbs couldn't be simpler.
1) Rinse fresh herbs and pat dry with paper towels.
2) Tie into bunches with string.
3) Hang upside down in an airy but ambient to warm temperature room for a few weeks until dry and the stalks break instead of bend.
The infused oils are versatile, simply store in the refrigerator and add a glug or two to your next marinade, drizzle as a finishing oil for meat, fish, poultry, or vegetables or use as a poaching liquid for your next sous vide meal. Some of our favorite flavor combinations are shrimp or pork with Chili Herb Oil, beef with Garlic Rosemary Oil and rabbit or chicken with Vanilla Bean Olive Oil.
Basic Infused (Flavored) Oil
Makes about 2 cups (480 ml)
INGREDIENTS
2 cups (480 ml) olive oil
Dried Infusion Flavorings of choice (see suggestions that follow*)
DIRECTIONS
1. Fill and preheat the water oven to 131F/55C.
2. Pour the olive oil into a small zip-closure cooking pouch.
3. Add the flavoring ingredients you have chosen.
4. Use the displacement method (Archimedes Principle) to remove the air and zip the seal.
5. Submerge the pouch in the water oven and cook for 3 hours.
6. Remove the pouch from the water oven and submerge in an ice-water bath (half ice, half water) until chilled.
7. You may wish to strain the oil prior to storing in refrigerator, depending on the ingredients you are infusing. (For instance, for the Herb Chili Oil below the longer the chili sits with the oil the more heat the oil will absorb. For the Vanilla Bean Oil, no need to strain.)
8. Either store the oil in the pouch or pour into a sterilized and dry stoppered glass bottle.
9. Will keep for 1-2 months in the refrigerator.
*Suggested Infusion Flavorings:
*For Chili Herb Oil
2 tablespoons (20 grams) dried herbs, spices and/or chilies
*For Garlic Rosemary Oil
2 tablespoons (20 grams) dried garlic flakes
2 tablespoons (20 grams) dried rosemary
*For Vanilla Olive Oil
2 vanilla bean pods, split and seeded; use both pods and seeds to infuse