Lamb Rump Steaks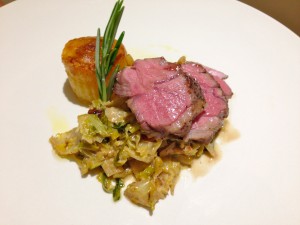 … with creamed savoy cabbage and potato fondant
Courtesy of Jack Lucas (MasterChef UK winner)
Serves 4
INGREDIENTS
For the potato fondants
8 Maris Piper (or Yukon Gold) potatoes
10 tablespoons (150 g) butter
1 can (14 ounce/400ml) chicken stock
3 cloves garlic, peeled
1 sprig fresh thyme
For the lamb
4 (8 ounce/227 g) lamb rump steaks
salt and pepper, to taste
2 tablespoons (30 ml) red currant jelly
For the cabbage
1 head Savoy cabbage
2 leeks
7 ounces (200 g) smoked pancetta or smoked back bacon
10 ounces (300 ml) double cream
8 ounces (250 ml) chicken stock
3 tablespoons (45 ml) oil
2 tablespoons (25 g) butter
1 teaspoon (5 ml) whole grain mustard
DIRECTIONS
Fill and preheat the SousVide Supreme water oven to 135F/57C for medium rare lamb (or to your preferred doneness temperature) and preheat the traditional oven to 395F/200 C (for the potatoes).
Prepare the potato fondants by peeling them and cutting them into your desired shape (traditionally a cylindrical or barrel shape) taking care to cut them to a similar size, so they cook evenly. If you have a small cylindrical cutter, use this to get perfect, equally-sized shapes for cooking.
On the hob/stovetop, heat an ovenproof pan or roasting tray over a high heat; add in the butter and allow to foam. Add the potatoes and fry for a couple of minutes, turning until golden brown on all sides.
Add in the garlic and thyme (be careful as this may spit!) and the chicken stock. Transfer to the oven and cook for approximately 45 minutes until tender (or a little longer depending on size). You may need to top up with stock if the pan looks a little dry throughout cooking.
While the potatoes cook, season the rump steaks with salt and pepper, put them into cooking pouches, and vacuum seal under full pressure.
Submerge the pouches in the water oven to cook for 45 minutes to 1 hour.
Meanwhile, prepare the cabbage:

remove the outer leaves of the cabbage and finely slice, discarding the hard stalk.
On the stovetop, in a heavy saucepan or frying pan, over medium heat, add the oil and pancetta and fry until golden and crispy.
When the pancetta is caramelized, add in the butter and let it foam before adding the leeks and cabbage.
Add a generous sprinkling of salt and pepper and fry gently until the leeks and cabbage begin to soften and become lightly golden, about 3 to 4 minutes more.
Add the stock and continue to cook until the cabbage and leeks are completely tender, another 5 minutes or so.
Stir in the double cream and mustard and cook a further 5 minutes until the liquid has reduced slightly. Hold warm.

When the lamb is cooked, remove it from the pouches and pat dry.
Heat a skillet or pan to smoking hot and quickly brown the rump steaks on both sides.
Transfer the steaks from the pan to a plate and reduce the heat of the pan to low.
Add the red currant jelly to the pan and let it melt; brush the melted jelly all over the lamb to form a glaze.
To plate
 Center a mount of the cabbage on each plate.
Slice the rump steaks and arrange the slices on top of the cabbage.
Add the potato fondants on the side.