Loin of Venison Sous Vide

…with parsnip puree, parsnip crisps, wild mushroom fricassee and a chocolate and red wine sauce
Courtesy of Jack Lucas (MasterChef UK Finalist)
Serves 4-6
Note: This recipe combines sous vide technique with traditional techniques.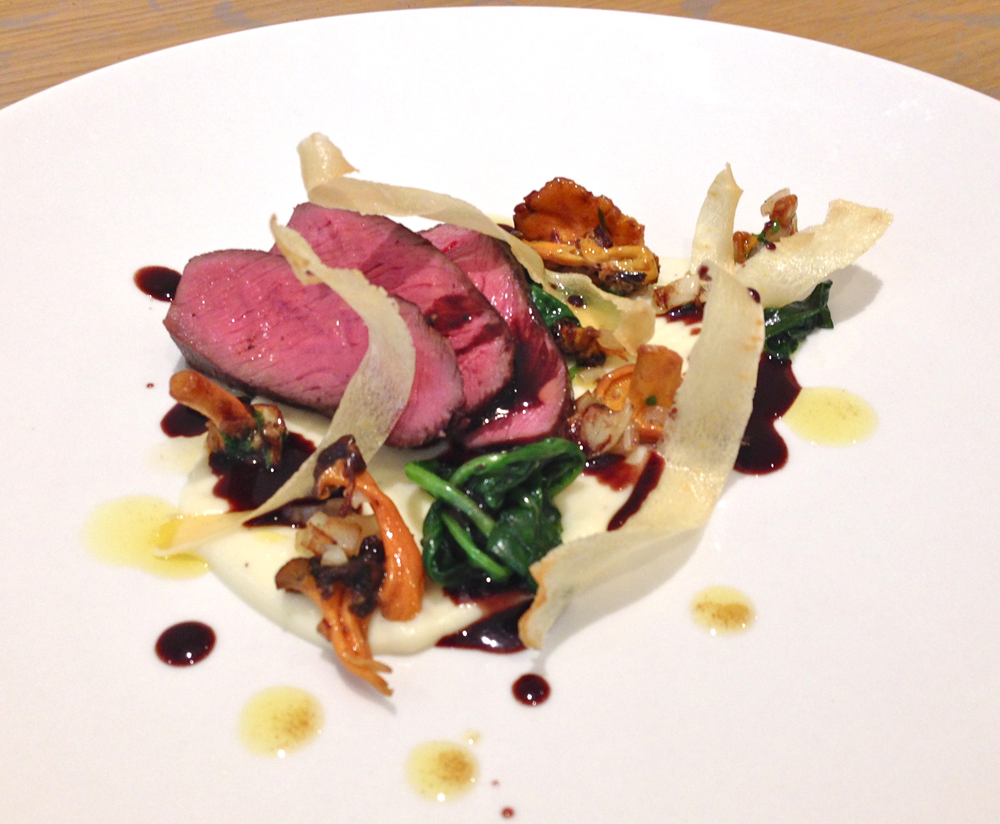 INGREDIENTS
4 (6 ounce/170 g) venison loin or leg steaks, trimmed of fat, sinew, and silver skin
For the sauce
1 to 2 tablespoons (15 to 30 ml) beef tallow or high-smoke point vegetable oil
1 pound (500 g) beef or venison bones
2 Echallion (banana) shallots
1 carrot
1/2 pound (225 g) button mushrooms
3 ½ ounces (100 ml) Madeira (optional)
1 bottle (750 ml) full-bodied red wine (Cabernet Sauvignon or Australian Shiraz)
8 ounces (250 ml) port
1 pint (500 ml) beef stock
5 tablespoons (75 g) butter
1 ¾ ounces (50 g) dark chocolate (>70% cocoa), grated
For the parsnips
6 parsnips, well-washed and peeled, divided use
2 tablespoons (25 g) butter
10 ounces (300 ml) milk
6 ½ ounces (200 ml) double cream
5 ounces (150 ml) water
salt and pepper to taste
2 quarts (2 liters) vegetable oil (enough to fill deep fat fryer)
Truffle oil
For the mushrooms
20 (or so) mushrooms, chanterelles, girolles and other wild mushrooms
1 handful flat leaf parsley
2 Echallion (banana) shallots
1 tablespoon (14 g) Butter
Truffle oil
For the spinach and garnish
1 pound (450 g) fresh spinach leaves
1 tablespoon (14 g) butter
Maldon sea salt, to taste
Freshly ground black pepper, to taste
Micro watercress, garnish
DIRECTIONS
Fill and preheat the SousVide Supreme water oven to 133F/56C and a deep-fat fryer to 300F/150C.
Meanwhile, begin the sauce:

On the stovetop, put the oil in a heavy-bottomed saucepan, over medium high heat. Add the beef bones and fry until golden and well caramelized.
Add the shallots, carrot, and mushrooms and further caramelize another several minutes.
If using the Madeira, add it first and reduce until it has almost evaporated before adding the port and red wine and further reducing the sauce to a syrup consistency.

While the sauce is reducing, begin work on the parsnips:

Dice 5 of the parsnips to about 1-inch/2 cm size.
In a saucepan on the stovetop/hob, melt the butter in a saucepan and fry the parsnips gently.
Add the milk, cream, and water and season to taste with salt and pepper.
Bring the mixture to the boil. Reduce the heat and simmer for 10-15 minutes until tender.
Once cooked, blend the parsnips with the butter and a drizzle of truffle oil to a smooth puree. If it seems a little thick, add fresh milk to loosen and blend again.

To finish the sauce, add the beef stock and leave on the burner/hob to reduce to a sauce consistency, which should take around 20-30 minutes.
Heavily season the venison loin with salt and pepper; put into a cooking pouch and vacuum seal under full pressure.
Submerge the pouch in the water oven to cook for 30 minutes to 1 hour.
Meanwhile, use a potato peeler to create ribbons of the remaining parsnip and fry these until crisp in the deep fat fryer at 300F/150C. Drain onto paper towel (kitchen paper) and immediately season with salt. Set aside.
When the sauce has reduced and thickened, strain it through a fine sieve and return to the pan. Add a knob of butter and a tablespoon or two (15 to 30 ml) of the grated chocolate prior to serving for a richly-flavoured sauce.
In a skillet on the stovetop/hob, fry the chanterelle mushrooms until they give up their moisture. Add the truffle oil, shallots and flat leaf parsley and keep warm.
To finish the venison, heat a little oil in a skillet on high heat on the stovetop. Remove the meat from the pouch and sear on all sides until browned.
Finally, sauté spinach in butter and season with the salt and pepper.
To plate
Mound a portion of the spinach in the centre of the plate.
Add a spoonful of parsnip puree and the sliced venison on top.
Scatter the sautéed mushrooms around the side and spoon over the chocolate sauce.
Finally, top with parsnip crisps and serve.
---
No sous vide? No problem!