Confit of Cod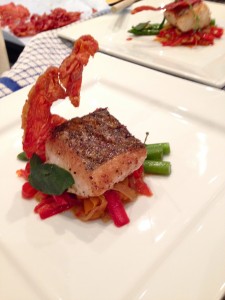 …with Red Pepper Piperade and Crispy Parma Ham
Courtesy of Jack Lucas (MasterChef UK Finalist)
Serves 4 as an appetizer, 2 as a main
INGREDIENTS
For the cod
1 pound (450 g) cod loin, taken from the centre cut
sea salt, as required (Maldon if you have it)
6 ½ ounces (200 ml) vegetable oil or any other neutral, unflavored oil
2 tablespoons (30 ml) olive oil
4 slices parma ham, very very thin
For the piperade
2 tablespoons (30 ml) olive oil
3 red bell peppers, stemmed, seeded, and finely chopped
1 orange or yellow bell pepper, stemmed, seeded, and finely chopped
2 echalion (banana) shallots, peeled and finely chopped
2 cloves garlic, peeled and finely chopped
salt and pepper to taste
2 sprigs thyme, stripped for leaves
3 tablespoons + 1 teaspoon (50 ml) white wine
1 tablespoon (15 ml) balsamic vinegar
1 teaspoon (5 ml) light muscovado sugar
DIRECTIONS
Fill and preheat the SousVide Supreme water oven to 115F/46C.
Cut the cod loin into four portions, sprinkle each generously with sea salt, and set aside, refrigerated, for 1 hour until the flesh has firmed up and moisture has been drawn from the fish.
Meanwhile, prepare the piperade:

On the stovetop, put the olive oil into a heavy-based saucepan and set over a high heat.
Add the chopped peppers, shallots, and garlic to the oil; season with a generous pinch of salt and pepper and the picked thyme leaves and cook for two minutes.
Stir in the wine and balsamic vinegar and continue to cook, until the liquid has all but evaporated.
Add the sugar, stir to combine, and turn down to a low heat to gently sweat the vegetables for 20 to 30 minutes, until they are tender and cooked through.

While the piperade cooks, turn back to the cod:

Blot the pieces of cod with paper towel (kitchen paper) to remove the excess moisture and salt and put them into a cooking pouch.
Add the oil and vacuum seal on Gentle/Moist settings, if available. (Watch as the oil climbs the pouch and force the seal, if needed, before oil enters the vacuum chamber.)
Submerge the cod in the water bath to cook for 20 to 30 minutes, until the flesh is opaque.

Before serving, crisp the ham:

On the stovetop over high heat, add the olive oil to a skillet/pan.
When the oil begins to smoke, add the slices of Parma ham and cook until they shrink and look crispy.
Remove the ham from the pan and drain on paper towels/kitchen paper. Don't worry if the slices look a little soft at this stage, as they will crisp more once out of the pan.
To serve
Center a mound of the piperade on the plate.
Top with a piece of cod loin, straight from the pouch, and a slice of the Parma ham and enjoy!
This works wonderfully with a side of asparagus too!