Asparagus Citronette with Crispy Pancetta

Courtesy of Staff Blogger, Madeline Fiore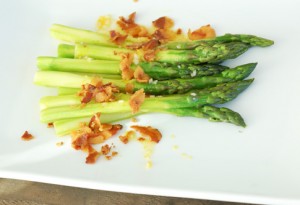 Serves 6
INGREDIENTS
For the citronette
1 large orange, zest and juice
1 small shallot, peeled and minced
2 teaspoons (10 ml) Dijon mustard
2 pinches sea salt
1 pinch freshly ground black pepper
1/3 cup (80 ml) extra-virgin olive oil, plus a glug for drizzling
For the asparagus
2 pounds (907g) asparagus, medium thickness stalks
8 ounces (227g) pancetta, thinly sliced
INSTRUCTIONS
Fill and preheat the SousVide Supreme to 190F/87C.
In a small bowl mix together the orange juice, zest, and shallots and let macerate for 15 minutes.
Stir the dijon mustard into the orange shallot mixture and slowly whisk in the olive oil.
Season with salt and pepper and set aside.
Warm a cast iron skillet over medium heat and cook the pancetta until crisp and caramelized, about 5 to 7 minutes. Put on paper towels to blot off grease and set aside until ready to serve.
Peel the asparagus and trim the woody ends.
Put the trimmed asparagus into cooking pouches in a single layer and drizzle with a bit of olive oil and vacuum seal.
Submerge in the water bath and cook for 4 minutes.
Pull the bag out of the water bath, open the pouch immediately and put into a serving dish.
Pour the citronette over the asparagus and toss. Crumble the cooked pancetta over the top and serve immediately.
---
No water oven? We can fix that!