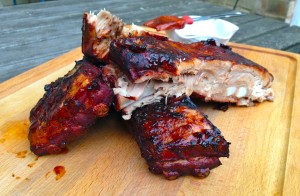 Courtesy of Jack Lucas (MasterChef UK Finalist)
Serves 2 as a meal, 4 as a starter (recipe doubles easily, but keep to 1 half rack per pouch.)
INGREDIENTS
1 large rack of meaty pork ribs, cut in half (about 6 bones in each half)
For the dry rub
3 heaping tablespoons (26 g) smoked paprika
1 tablespoons (38 g) brown sugar, such as dark muscovado
1 tablespoon (7 g) red pepper/chilli flakes
1 teaspoon (5 ml) mustard powder
1 teaspoon (5 ml) cayenne pepper
For the barbecue sauce
6 tablespoons (90 ml) tomato ketchup
3 tablespoons (115 g) dark muscovado sugar
2 tablespoons (30 ml) cider vinegar
1 tablespoon (15 ml) Worcestershire sauce
DIRECTIONS
Fill and preheat the SousVide Supreme water oven to 149F/65 C.
In a small bowl, combine the dry rub ingredients and season the pork liberally with all over with the mixture. '
Put each half rack into a cooking pouch and vacuum seal.
Use the pouch rack to submerge the pouches, on their sides, in the water oven to cook for 24 to 48 hours until the meat feels soft when pressed gently.  (You can cook the ribs to this point, quick chill in the pouch, submerged in ice water for 30 minutes, and then refrigerate for up to 2 days or freeze indefinitely.)
For the BBQ sauce, mix all the ingredients together in a pan on the stovetop and gently simmer for 2 minutes. Remove from the heat, set aside. Chill until required, if not using right away.
Finish on the BBQ grill or in the oven
Preheat the oven broiler or a well-oiled grate on the grill to high heat (400 to 450F/200 to 220C).
(Optional) If you're finishing on an outdoor grill and have them, put wet apple wood or other smoking chips on the coals and close the lid to generate a really smoky environment to finish the ribs off on.
Slather your ribs with the BBQ sauce and cook on the grill or under the broiler, until the sauce has caramelized, about 7 to 8 minutes a side. (The flavor is incredible!)
Share This Recipe with Friends!