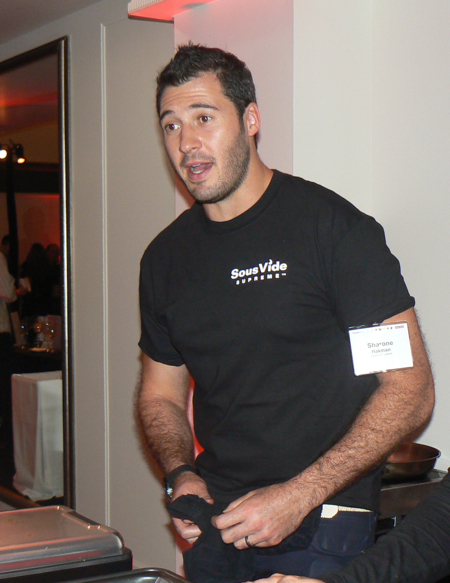 October 8 was the scene in San Francisco as Master Chef's Sharone Hakman treated the 250-plus BlogHER conference attendees to a luscious short rib and golden beet appetizer. The hunky food tv celeb asked us to share his recipe with the sous vide faithful, so we could all enjoy a taste of what was on the menu. We're happy to oblige!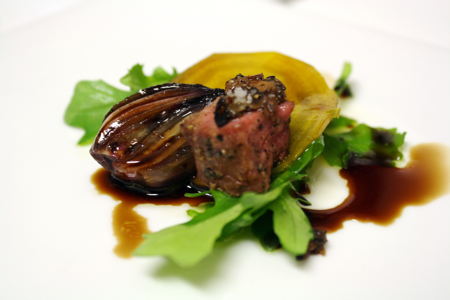 Sharone Hakman's Porcini Encrusted Braised Short Ribs with Golden Beets and Pearl Onions
Time: 48 Hours
Serves: 8-10
1 pound (0.45 kg) of trimmed boneless short ribs
2 packages (1 ounce/ 30 g each) dried porcini mushrooms
4 whole garlic cloves
1/8 cup (125 ml) decent cabernet sauvignon
1 package (about 3/4 ounce/ 22.5g) fresh thyme, leaves stripped and minced
4 tablespoons (60 g) cold butter, diced into cubes
2 -3 golden beets, well-scrubbed, trimmed, and thinly sliced
Juice of 1 lemon
1 pound (0.45) red pearl onions peeled and cut in half
4 tablespoons (60 ml) extra virgin olive oil
Fresh cracked pepper
Kosher Salt
A bunch or bag of fresh arugula
Coarse sea salt for finishing (Maldon preferably, but can use an alternative)
Extra virgin olive oil for finishing
Aged balsamic vinegar for finishing
For the Short Ribs:
1. Pre-heat the SousVide Supreme to 134°F/56°C
2. Put the short ribs, garlic clove, half the cubed butter, 3 dried porcini mushrooms, 2 to 3 sprigs of the thyme, 2 tablespoons cabernet, salt and pepper to taste into a cooking pouch.
3. Evacuate as much air as possible from pouch without drawing fluid up into the vacuum sealer and force seal. (Vacuum seal and then press Seal Only on the Sous Vide Supreme Vacuum Sealer.)
4. Submerge the pouch in the water oven and cook for 24 to 48 hours.
5. Remove and quick chill in an ice bath (half ice/half water) for at least 30 minutes and refrigerate for use once the vegetables have finished cooking.
6. In a coffee or spice grinder, grind remaining dried mushrooms to a fine powder; put onto a large plate and set aside. This will be used to dust each short rib before searing.
For the Golden Beets and Pearl Onions:
1. Pre-heat the SousVide Supreme to 185°F/87°C
2. Peel the beets and slice them into 1/8-inch (0.3 cm) thick circles. Put the sliced beets into a bowl of cold water with the juice of 1 lemon for about 5 minutes to prevent them from browning. Drain them well.
3. Season beets with a tablespoon of olive oil, salt and pepper to taste and 2 tablespoons of the fresh thyme.
4. Put them into a quart/liter cooking pouch and vacuum seal.
5. Peel the onions and slice them in half.
6. Season onions with 2 tablespoons of the butter, 1 tablespoon of olive oil, salt and pepper to taste.
7. Put them into a quart/liter cooking pouch and vacuum seal.
8. Submerge the pouches in the water oven and cook for 1 hour.
9. When the vegetables are just about done, remove the short ribs from the refrigerator and let them come to room temperature.
10. Remove the ribs from the pouch and roll them in the porcini dust. Season them lightly with pepper, sugar and salt, covering all sides.
11. In a medium skillet, heat a little olive oil and butter together at medium / high heat and sear the ribs for about 20 seconds per side.
12. Remove the vegetables from the water bath, open the pouch, and drain off all excess liquid. The onions can be sautéed, if desired, to caramelize the surface, but it's not necessary.
13. Arrange the vegetables on separate plates for easier assembly of the individual appetizers.
Assembly:
1. Center a small bed of arugula on a plate.
2. Add 1 or 2 slices of golden beet at the edge of the plate
3. Add 1 or 2 halves of the pearl onion along with a nice bite size short rib on top.
To Finish:
Drizzle extra virgin olive oil and aged balsamic over the appetizer and sprinkle on a bit of coarse sea salt (Maldon preferably, but can use an alternative)