Every family has its favorite recipe.  In fact, every person in a family will have an opinion.  Some prefer fresh Cranberry Relish (uncooked); others want cooked sauce, but from scratch; still others (inexplicably, but honestly) prefer the jellied stuff from a can.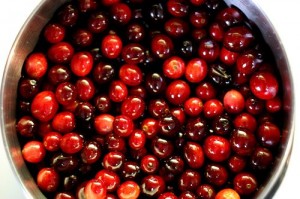 If you are in the camp who wants a made-from-fresh-cranberries sauce with a tart flavor and pleasing texture, take a tip from Salty Seattle, who compared a traditional stove top cooked cranberry sauce to a sous vide cooked cranberry sauce (and for good measure with a commercial slice it up canned cranberry sauce as her control.)  Which was superior?  Click here for all the details and the recipes.
For more recipes for holiday favorites, check out the new Sous Vide Holiday cookbook.
Share This Recipe with Friends!