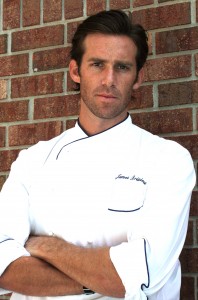 We recently had the chance to talk to Chef James Briscione (Institute of Culinary Education in New York) about his experience with sous vide cooking (and our humble machine in particular.) He'll be teaching classes featuring sous vide cooking at the Institute in New York City this summer for aspiring chefs and even one recreational cooking classes for us foodies. In it, Chef Briscione will take students through the ins and outs of this precise cooking method and help them understand how to get flavors and textures out of food they maybe never have thought possible. Foods prepared will include: 45 Minutes Eggs; Chicken Breasts; Beef Short Ribs and more. If you are in the New York City area August 19 and are interested you can find the
(Registration information and Class calendar here.) For the rest of us not geographically lucky enough to be able to attend the class, Chef Briscione was kind enough to provide one of his favorite sous vide recipes.
SVS: When/how did you first come to sous vide cooking?
JB: The first time I saw anything cooked sous vide was at Restaurant Daniel [Chef Daniel Boulud's premier restaurant in New York City] but it wasn't until I started teaching at The Institute of Culinary Education in 2007 that I began to really use and experiment with it. In 2010 I had the chance to go to Venice, Italy to train with an Italian chef who is an absolute sous vide wiz and my technique and production has grown in leaps and bounds since then.
SVS: In your opinion, what food (or food category) benefits most from the technique?
JB: So many different types of food can become truly magical when cooked sous vide, it's really tough to pick one that benefits the most. Since the majority of people over cook chicken with traditional methods, I think a sous vide chicken breast can be a truly eye opening experience.
SVS: What's the most delicious or unusual sous-vide cooked food you've ever tasted? Or cooked yourself?
JB: Maybe not unusual, but one of the most unexpected things I ever made sous vide was citrus syrups that I used to create homemade sodas and cocktails. I pack segments of citrus in bags with sugar and cook them very gently (at 135˚F) until the sugar draws the juices out of the fruit and dissolves to create the syrups. The great thing about this technique is that unlike simmering, the citrus flavor remains bright, fresh and aromatic.
And then there was the time that de-boned a pigs head- whole- cooked it sous vide and made it into a torchon.
SVS: Wow! We'll need to circle back to learn more about this whole pigs head adventure when we've got more time. Apart from a pig's head torchon, what's your go-to sous vide dish to impress?
JB: For me, beef short ribs and/or a ribeye steak are going to blow people away every time. I set my sous vide supreme to 132.5˚F (56˚C), put the seared short ribs in one bag and a ribeye steak in another. I leave the short ribs to cook for 48 hours and the steak just a quick 2.5 hours. Afterwards I re-sear both meats and baste them butter, garlic and thyme. Then I serve a few slices of each meat together with whatever my favorite seasonal side dish may be at the time.
SVS: Have you ever had a total sous vide flop? If yes, why? What happened?
JB: Too many to count! I think one of the popular misconceptions of sous vide is that because you're cooking at a low temperature you can't over cook your food. I'm here to tell you it's not true.
SVS: You certainly can overcook if you set the water oven to too hot a temperature. So what happened?

JB: One of my biggest flops was a pork loin that I though I was going to make so tender and juicy by cooking it for 6 hours at 150˚F. Needless to say tender and juicy are probably the last two words you would use to describe that meal!
SVS: So what did you learn from that experience?
JB: I learned two great things from that gigantic flop. #1 – 150F is a fine internal temperature, if you're roasting or grilling pork (though maybe still just a touch high), but those standard temperatures don't always translate directly for sous vide cooking. [You really have to follow the temperature guides that have been worked out.] Especially with pork. It doesn't need to be cooked nearly as high, when done sous vide. And #2 – tender cuts need shorter cooking times. No matter how you may try, you can't make a tender cut turn out like a braise, so don't try. Cook tender meats just until done, then stop!
SVS: How do you incorporate this technique into your daily work/home life?
JB: Just like everyone else, we are a busy family. As a writer my wife works from home, which means she's holding down two full time jobs, since she cares for our 3-year-old daughter as well. One of her favorite quick lunches is sous vide salmon. We'll cook 3 or 4 pieces of salmon in individual bags on a Sunday, then store them in the refrigerator for the week. That way she can just zip open a bag and have lunch ready in minutes. She's a great cook too so she is always whipping up a new sauce or relish with fresh ingredients from the farmer's market to top her fish.
Also, living in a New York City apartment, counter and oven space is in high demand, so when ever we entertain, we always prepare the entrée in our sous vide supreme, so we have plenty of space for the important things like a pitcher of cocktails or glasses of wine!
SVS: Why do you think the sous vide trend has now taken off?
JB: Before the proliferation of sous vide, home cooks couldn't have access to same tools and equipment as a professional chef without remodeling their entire home. Now, not only can they use the exact same tools professional chefs around the world are using, they can get the same results.
SVS: What do you think foodie home cooks love about the technique?
JB: Whether you grill, broil or sauté a chicken breast, the result is going to be pretty similar. Sous vide cooking is so unique. It creates a product unlike anything else. The results are truly memorable and the best part is, the technique is totally accessible. You do not need years of practice and training to get a great result.
SVS: What do chefs love about the technique?

JB: Professional cooking is about consistency. You want every person in your dining room to have the same great experience. So as a chef, you have to make sure that every piece of food that leaves the kitchen is perfect. When you cook sous vide, you get a consistent, reliable product and you can be confident no one is struggling to saw through an over cooked steak. Plus, sous vide allows chefs creates textures in food that are impossible through any other technique.

SVS: OK. Let's go to the other end of the spectrum. What would you recommend as an easy 'get started with sous vide' food – a real no fail for the novice cook?
JB: I think simple proteins that only need short cooking times are the best place to start. Salmon filets are ready in just 20 minutes or a boneless chicken breast that is done in 30 minutes. You vary their flavor so much with how you season them before cooking and you can finish them in different ways- seared, grilled broiled, fried- the possibilities are endless. Of course, easiest of all but still an amazing result is the 45 minute egg- no vacuum or bags required- just perfectly poached eggs every time.

SVS: How does the SousVide Supreme (or SousVide Supreme Chef) compare to other sous vide cooking equipment you've used?
JB:My wife bought me a SousVide Supreme for Christmas years ago and I have loved it ever since. Other sous vide equipment can be bulky or require big containers for a water bath. Living in New York City where my kitchen is size of most people's bathrooms, SousVide Supreme is the ideal solution. But it's not just about saving space- the SousVide Supreme is as accurate and reliable as any machine I have ever used. Mine has been turning out consistently delicious results for almost 3 years now!
Visit James Briscione's personal blog here.