With Passover approaching, we asked Israeli chef Yair Feinberg if he had a great sous vide recipe for the holiday. Not only did he share his special recipe for sous vide gefilte fish, but he also wrote a guest blog post to accompany it. We thank Chef Feinberg for creating a moist, flavorful take on a traditional recipe.
'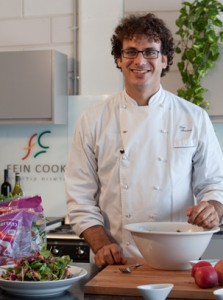 Gefilte fish' is a classic fare in the Ashkenazi-Jews' kitchen. A popular holiday dish that is usually served as first course on Rosh HaShana, Pesach and Shabbath, 'gefilte' means stuffed. The original dish was made from chopped freshwater fish and then stuffed in Pike or Carp skin. Most modern versions have done away with stuffing the skin and instead the 'stuffing' itself is formed into balls (or patties) and then poached in fish stock. The dish is always prepared in advance and thus served cold and garnished with a slice of carrot and the jellied fish stock (aspic).
For this recipe I used White Drum, because I love how this fish retains most of its texture and flavor even after cooking.  The advantage of 'sous vide' cooking technique is that the fish gets cooked at  its ideal temperature, thus avoiding overcooking (take note that it is very easy to overcook fish). As a result, the fish remains succulent and full of flavor.
Preparing the fish stock separately allows us to reduce it to the right consistency without sacrificing flavor and texture.
As a nice twist, I added Ouzo to infuse this dish with a delicate anise flavor.
Hag Pesaj Sameach! (Happy Passover)
– Chef Yair Feinberg
Gefilte Fish Sous Vide

Ingredients
12 slices (5 ounces/150g) white drum, about 1-1/4 inch/3cm
Zest of one lemon
Zest of one orange
2 tablespoons (30 ml) extra virgin olive oil
Salt
Ground black pepper
For the 'Gefilte' you will need:
1 scant pound (500 grams) white drum filet, without bones and skin (substitute striped bass, corvina, rockfish, grouper or any white, firm-fleshed fish with a small flake)
1 onion, peeled and quartered
2 tablespoons (30 ml) flour (use Matzoh cake flour for Passover)
2 egg yolks
1 teaspoon (5 ml) sugar
1 teaspoon (5 ml) salt
1/2 teaspoon (2.5 ml) coarsely ground black pepper
For the fish stock you will need:
2 pounds (about a kilogram) fish bones and heads
2 tablespoons (30 ml) olive oil
1 onion, washed, peeled, and quartered
1 carrot, trimmed, washed and sliced (approx.  2cm each slice)
10 stems of parsley
1 bay leaf
2 fennel bulbs, washed, trimmed, and quartered
1/4 cup (60 ml) ouzo or arak
3 -1/4 quarts (3 liters) water
2 stars of anise
For the garnish you will need:
1 carrot peeled and sliced (approximately ½-inch/5 mm each
Minced tarragon (or parsley leaves)
12 lemon wedges
Instructions
1. Throw in all the ingredients for the 'gefilte' in your Thermomix (or a really powerful food processor). Mince until you have a smooth and homogenous mixture. Take care not to over-process the mixture because your machine might heat up and 'cook' the fish.
2. Season the mixture with salt and pepper, zests from both lemon and orange and a little bit of olive oil. Form the mixture into balls (about the size of a small lemon) and stuff them in between the fish slices. Arrange the stuffed slices inside the cooking pouches and close with a vacuum seal.
3. Arrange sealed pouches inside your SousVide Supreme which has been pre-heated at 131F/55C for 30minutes.
4. Take out pouches from your SousVide Supreme straight into a prepared ice-water bath. Leave the pouch in the ice-water bath for an hour and then transfer to your fridge until serving time.
5. Raise the temperature of your SousVide Supreme to 180F/82C, arrange sliced carrots for garnish inside cooking pouch and then vacuum seal. Cook for 15 minutes. Take them out and place the pouch in the ice-water bath for 30minutes. Transfer pouch in the fridge to cool until serving.
6. For the fish stock you will need a wide pot that can hold all the fish heads and bones. Heat pot and olive oil. Saute fish heads and bones and gently cook on medium heat for about 10 minutes (or until fish has a slightly golden color). Next, add your vegetables and let it cook till translucent (about 15 minutes). Add the Ouzo and let simmer for 3 minutes until most of the alcohol has evaporated. Add water and bring to boil. Adjust heat to low and let simmer for an hour.
7. Strain fish stock in a fine mesh strainer. Transfer to a clean pot. Add your star of anise for flavor and let simmer until it has reduced to a thick consistency. Let cool then pour into small 'muffin' molds and cool completely in the fridge (this is your aspic).
8. To serve, arrange a stuffed fish on each plate. Garnish with a slice of carrot and minced tarragon (or parsley) and several cubes of aspic (jellied fish stock). Don't forget to add a wedge of lemon.