Courtesy of Staff Blogger, Madeline Fiore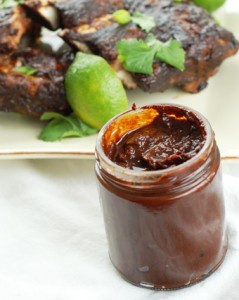 Makes about 2 cups (480 ml)
Note: This is NOT a sous vide recipe, but intended to augment sous vide recipes for barbecued ribs, chicken, and burgers.
INGREDIENTS
¼ cup (60 ml) safflower oil or other high-heat cooking oil
1 small yellow onion, peeled and chopped
2 garlic cloves, peeled and minced
3 dried ancho chilies
1 dried New Mexico chili
4 ½ ounces (128 grams) tomato paste
¼ cup (60 ml) molasses
¼ cup (50 grams) packed brown sugar
½ cup (60 ml) apple cider vinegar
3 tablespoons (21 grams) cocoa powder
1 tablespoon (15ml) sea salt
2 teaspoons (10 ml/4 g) black pepper
1 ½ teaspoons (7.5 ml/3 g) ground cumin
1 teaspoon/ 5 ml/ ground coriander
¼ cup (60 ml) fresh lemon juice (plus zest of 1 lemon)
¼ cup (60 ml) fresh lime juice (plus zest of 1 lime), divided
INSTRUCTIONS
In a medium saucepan, heat the oil over medium heat and sauté the onions and garlic until translucent, approximately 10 minutes.
Meanwhile, stem and discard the seeds of the dried chilies. If you like a little more heat, then leave the seeds intact. Put the chilies in a heatproof bowl and pour enough hot water over the top to submerge, let soak for 15 minutes.
Drain the chili water from the chilies and transfer the softened chilies to a blender with ½ cup (120 ml) of the chili water. Process this mixture to a smooth paste.
Add the chili paste and all of the remaining ingredients–except for 1/8 cup (30 ml) of the lime juice and the lime zest–to the onion mixture. Bring the mixture to a simmer over medium-high heat, reduce to a low bubble and simmer for 20 to 30 minutes.
Let cool to room temperature, stir in the remaining lime juice and the zest; pour into an airtight container and store in the refrigerator until ready to use.
Great on ribs, chicken, or burgers!
Share This Recipe with Friends!