There are certain universal benchmarks which remind us that yes, fall is upon us. The days get shorter, mornings are crisper, school supplies are in demand, and blog writers can't help but make obvious statements about fall.
The change in seasons also marks a change in what we eat. As cooler weather sets in, there is little more comforting than a warm, hearty meal such as a stew or soup. Unfortunately, cooking a good stew on a stovetop or in an oven can be an involved process – the ingredients must be periodically stirred and the pot must be watched to ensure it doesn't boil. Even experienced cooks often find themselves eating an overcooked stew with dry, tough meat.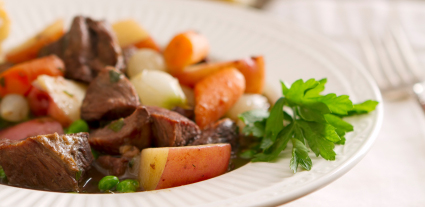 Sous vide stews and soups, on the other hand, mean that dinner will be ready whenever you are, with fork-tender meat no matter how long it cooks. Stews and soups are perfect make-ahead meals, ideal for nights when you want a home-cooked meal but don't want to be stuck cooking as soon as you get home. There are many great recipes out there for soups and stews, but here are some of our favorites:
The ingredients for the Sous Vide Beef Goulash can be prepared the night before and will be ready for the following night's dinner. The Traditional Irish Lamb Stew Sous Vide is a hearty meal that can be prepared in the morning and serve six that evening. Large batches of Meat Week (Chicken) Soup can be cooked then quick-chilled, to be reheated for easy lunches at work.
Of course, if soups and stews aren't your meal of choice (we once heard soup described as being "too wet"), there are plenty of other perfect-for-fall recipes available in our recipe section.
Do you have a favorite fall recipe, stew or otherwise? Share it in our comments section or on our Facebook page. And don't forget to tweet us a pic of your finished creation, @SousVideSupreme!