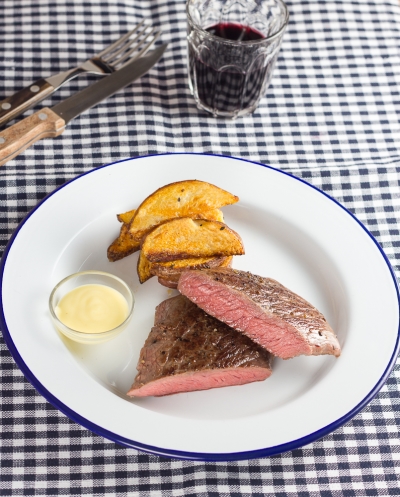 There is no better way to impress the object of your affection this Valentine's Day, than with a gourmet feast cooked by you in your own kitchen. This meltingly-tender, medium rare steak, served with a creamy rich béarnaise sauce could be just the recipe to win your loved one's heart.
If cooking gourmet food isn't your forte, don't worry, as the SousVide Supreme will do all hard work for you and make you look like a professional chef. You may know by now that cooking steaks sous vide is the very best way to achieve perfection and here's why: the precise temperature control of the SousVide Supreme ensures your beloved's steak is cooked exactly to their liking, whether that is rare, medium-rare or medium-well. So, there will be no reason for you to be flustered in the kitchen, wondering if the steak is cooked correctly.  Instead, you can be coolly pouring the wine and dazzling your honey with a few bon mots!
A French butter sauce, such as béarnaise, is tricky to get right for even the best of cooks. The eggs can easily get overcooked, resulting in a curdled mess. The SousVide Supreme takes care of cooking this delicate sauce, so all you need do is prepare the tarragon reduction, add the eggs and butter, and wait for the sauce to cook.
The steak and creamy béarnaise sauce are a match made in heaven and will make your sweetie believe that they're in a gourmet restaurant or wonder when you had time to go to culinary school.  So, don't fret this Valentine's Day, just reach for your trusty SousVide Supreme, and let it do all the hard work for you.
Ingredients
Serves 2
Béarnaise Sauce
1 tablespoon (4g) chopped tarragon (fresh French tarragon is best)
1 tablespoon (5g) chopped shallot
3 peppercorns
1 tablespoon (15ml) white wine vinegar
1/3 cup (80 ml) dry vermouth  or dry white wine
2 egg yolks
1 tablespoon (15ml) water
5 tablespoons (75g ) butter, melted
Method
Fill and preheat the SousVide Supreme to 174°F/79°C.
Put the tarragon, shallot, peppercorns, white wine vinegar and vermouth into a saucepan and cook over a medium to high heat. Allow to simmer and reduce until there are one and half tablespoons of liquid remaining.  Take the pan off the heat and set aside.
Lightly beat the egg yolks in a bowl. Strain the tarragon reduction into the egg yolks and discard the leftover tarragon and shallots.
 Add the melted butter and water to the egg yolks and whisk everything together with a fork or small whisk.
Pour the mixture into a (quart/0.95 liter) zip-closure cooking pouches, and use the displacement method (Archimedes' principle) to remove the air and zip the seal closed. Once the bag is zipped closed, submerge the pouch in the preheated water bath and leave to cook for 45 minutes.
Once the béarnaise is cooked, pour it into a clean bowl and whisk together to form a smooth sauce. If I am cooking a steak, I like to leave the béarnaise warm over a saucepan of just boiled water on a low heat until I am ready to serve. If the béarnaise gets too thick, add a few drops of boiling water to thin it out.
Sous Vide Steak
2 (8 ounce/240g) steaks
Salt and pepper, to taste
1 tablespoon (15 ml) peanut oil, to fry
Fill and preheat the SousVide Supreme to  your  preferred degree of doneness (120F/49C rare; 134F/56.5C medium rare; 140F/60C medium; 150F/65.5C medium well)
Pat the steaks dry with kitchen paper (paper towel) and season them on both sides with salt and pepper. Smoked salt is a nice alternative to give the steak a slightly smoky crust.
Put the steaks into a food grade cooking pouch and vacuum seal.
Submerge the pouch in the water bath and cook for at least one hour and up to 8 hours. (For tougher cuts or grassfed steaks, the longer you leave them, the more tender they will become.)
Remove steaks from pouch and pat dry with some clean kitchen paper (paper towel).
Heat the oil in a pan over a high heat.
Quickly sear the steaks on both sides to achieve a rich brown crust.