Easter is this weekend and all eyes will be on the egg – which is one of the coolest foods you can cook sous vide. The egg is full of complex proteins which firm up at different temperatures, so because of the precise temperature control you get with sous vide, you can create textures you just can't replicate with any other technique. You can even set the yolk before the whites – some calls this a "reverse boiled egg" – for an amazing thick custard-like middle, with velvety whites on the outside.
Scrambled, soft boiled, dipping in toast – with sous vide you get a complete range, and one degree difference can change the entire texture. Hours of experimental fun!
So, in honor of the egg this holiday weekend, we've rounded up some of the best-of-the best sous vide egg photos from our friends online using the SousVide Supreme. Don't miss our own little unofficial scientific experiment at the end for a cooking play-be-play.
Awesome creamy results by Steamy Kitchen.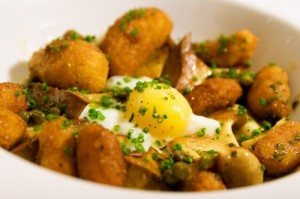 Perfect soft boiled atop seasoned potatoes. Shout out to Serious Eats.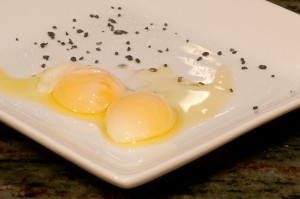 Quail eggs too! Topped with truffle oil and black lava sea salt, no less. Fancy stuff, Sleepless Foodie!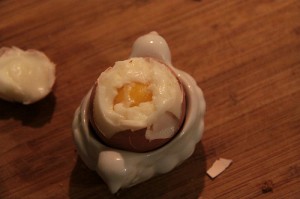 Well Preserved said this is the "the best egg he's ever had." Looks delish.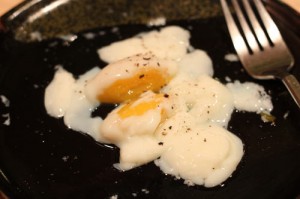 Wilson Rothman notes this egg achieved perfect custard consistency. Check out his post at You Make It You Eat It.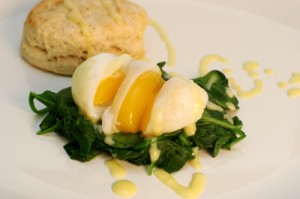 Salty Seattle always impresses with her dishes. Here, sous vide egg paired with Meyer lemon hollandaise.
Classic egg on toast by Popular Science.
.…and from our own Dr. Mary Dan Eades, creamy French-custard style eggs!
Now, for our own informal experiment – see results at left at two degree increments, all cooked for 45 minutes in the SousVide Supreme. We found the perfect egg to be right at the 143 mark. People who follow sous vide cooking closely will note the SousVide Supreme does not circulate water, as most other water baths do. We often hear the "perfect sous vide egg" is 146, but due to the difference in water circulation, 143 seems to be the sweet spot for the SousVide Supreme. And yes, three degrees does make a huge difference…that is the beauty of sous vide!
Our own Chef Richard Blais cites 143 for the perfect SousVide Supreme egg. So tell us, what temp is perfect for you?
Share This Recipe with Friends!