Friday, June 11, Chef Richard Blais took to the airwaves on Daytime TV with his SousVide Supreme to explain the sous vide process to a group of excited foodie reporters.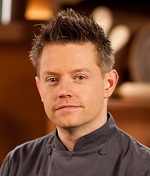 Chef Blais asked us to share the recipes he prepared with our readers and I do so forthwith!
Turkey Tenderloin with Tomato Chutney
2 turkey tenderloins
1 teaspoon salt
1 teaspoon pepper
1.    Preheat the SousVide Supreme to 142F/61C.
2.    Sprinkle the tenderloins with the salt and pepper.
3.    Vacuum/seal each turkey tenderloin in a food-grade pouch.
4.    Cook in the water bath for 4 hours.
5.    Remove tenderloins and serve with Tomato Chutney (recipe follows.)
Tomato Chutney
1 can (14 ounces) diced tomatoes, drained well
½ teaspoon ground ginger
½ teaspoon garlic powder
¼ teaspoon ground cumin
½ teaspoon ground coriander
2 whole cloves
2 teaspoons mustard seed
¼ teaspoon Cayenne pepper
½ cup diced onion
1 teaspoon Ghee (clarified butter) or unsalted butter
1.    Preheat the SousVide Supreme to 194F/90C.
2.    Combine all ingredients in a food grade cooking pouch.
3.    Press out as much air as possible from the pouch (do not vacuum or do so gingerly as there will be some residual liquid in the tomatoes) and seal.
4.    Cook in the water bath for one hour.
5.    Serve or quick chill, submerged in an ice water bath ( ½ ice, ½ water) for at least 30 minutes and then refrigerate for up to several days.
Armed with the SousVide Supreme and these recipes, you can cook like a Top Chef contender!