If on New Year's Eve, with its rich food and drink, honking horns, and confetti streamers, we bid a last hurrah to the old year, then New Year's Day is the polar opposite: a day devoted to setting a new tone for the year to come. After a night of revelry, everybody could use a little peace, quiet, and simplicity to let them ease into the new year. And we think good nutrition (and maybe a hair of the dog) is just the ticket to dispel the hangover of the indulgences of the night (or week) before. Some quality protein is in order and what could be more comforting than Eggs Benedict? And what could be easier than making the poached eggs a la sous vide!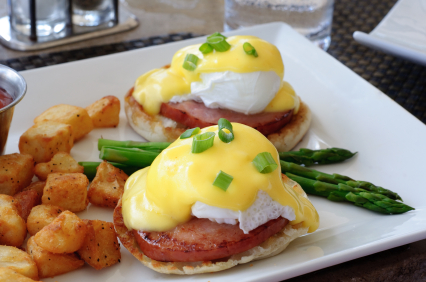 Here's a simple recipe for The Perfect Sous Vide Eggs Benedict.  Best of all, when you may be struggling to clear the cobwebs on 'the day after', careful timing is not required to get a perfect egg, .Just preheat the SousVide Supreme and gently drop the eggs in their shells onto the bottom perforated grill of the water oven. Set the timer for an hour and go have a Bloody Mary and watch the Rose Bowl Parade or take a brisk walk while the machine does all the work. If you don't get back to them right at the stroke of an hour, at this temperature it won't matter. They won't overcook.
If you're in a bit of a rush, you can use the quick cook method. Simply crank your SousVide Supreme up to 167F/75C and you can poach the eggs in their shells in about 15 minutes (if you like a runny yolk) or 20 minutes (if you like it a bit more cooked.) A word of caution here: quick cooking the eggs does require paying attention to the timer when it beeps. At this temperature, you'll end up with hard boiled eggs after about 45 minutes. But hey, if you do, just make egg salad and go have another bit of the hair of the dog!
Happy New Year to all!