Maine Lobster Tail

Serves 2
Time 45 Minutes
INGREDIENTS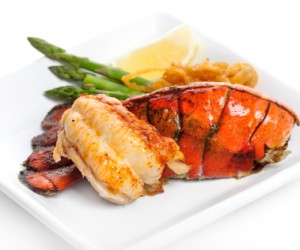 For the lobsters
2  Maine lobster tails, about 1-1/2 pounds (0.7 kg) each, uncooked

Salt to taste

White pepper to taste

2 tablespoons (28 g) butter

2 teaspoons (10 ml) Amaretto liqueur
For the lemon butter
1/2 stick (113 g) butter, melted

1 lemon, cut into wedges
INSTRUCTIONS
Preheat the SousVide Supreme to 140F/60C
Lightly sprinkle the tails with salt and white pepper
Put the lobster tails into individual small (quart/0.9 liter) cooking pouches with 1 teaspoon of the Amaretto and 1 tablespoon of the butter and vacuum seal.
Cook for 45 minutes.
Remove tails from pouch and serve immediately with warm, melted butter and lemon.