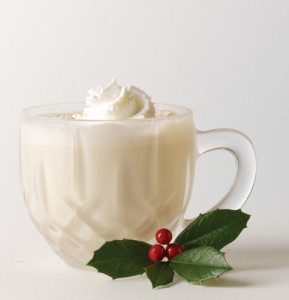 Nothing says 'It's Christmas' quite like eggnog.  The quintessential holiday drink begins showing up in carton form in grocery stores even before Thanksgiving nowadays.
And while it's easy to just pick up a carton of it, it's also easy to make in the SousVide Supreme or Demi.  And you don't even have to stir it!
Here's a quick recipe for a fantastic Easy Eggnog (which you can spike with a cup or more of bourbon and/or brandy or not at your pleasure) that's made right in the cooking pouch.  It's just one of the scrumptious recipes from the Sous Vide Holiday cookbook.
But inventive molecular gastronomists, such as Chef Richard Blais, have taken eggnog to a whole other realm, using liquid nitrogen to turn it instantly into ice cream. Take a look at this video of Chef Blais on CNN showing us how. Rest easy: those of us without a supply of liquid nitrogen or the know how to use it can always apply tincture of time, less cold, and a crank to do it the old fashioned way.  Not nearly as cool, but just as delicious.