Easy Eggnog

Makes about 12 servings
On the 8th Day of Christmas my true love gave to me 8 Maids a Milking, or at least enough cream to make this delicious sous vide egg nog. Yum!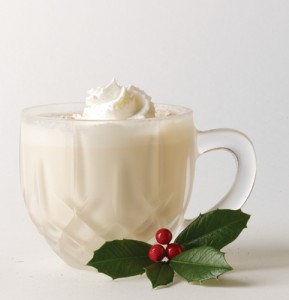 INGREDIENTS
12 large fresh eggs
1 quart/1 liter whole milk
1 cup/200 grams superfine or powdered sugar, divided use
2 cups/500 ml heavy cream – divided use
1 tablespoon/15 ml pure vanilla extract
1 teaspoon freshly grated nutmeg
1 pinch kosher salt
1 cup/250 ml bourbon whiskey, chilled (or more to your liking)
1 cup/250 ml brandy, chilled
Freshly grated nutmeg, for garnish
INGREDIENTS
Preheat the SousVide Supreme to 140F/60C.
In a large bowl, beat the eggs for 2 to 3 minutes, until they are thick and pale yellow.
Add the sugar and beat again to combine;  then add the milk, 1 cup of the cream, the teaspoon of freshly grated nutmeg and the salt and beat well to make the eggnog base.
Pour the base into a gallon (large) food-grade pouch, press out as much air as possible from the pouch, and seal.  Do not attempt to vacuum seal the pouch with a suction-type vacuum sealer.
Drop the sealed food pouch into the water bath and cook for 1 hour, agitating the contents in the pouch several times during the cooking period.
Remove the pouch from the water bath and immediately quick chill the base by submerging the sealed pouch in ice water (½ ice ½ water) for at least 30 minutes.  Refrigerate for several hours to overnight to thoroughly chill.
Remove the pouch of eggnog base from the refrigerator and pour it into a large punch bowl.
Add the bourbon, brandy, and vanilla and mix well.
Beat the remaining cream to soft peaks and fold into the egg nog.
Grate additional fresh nutmeg on top for garnish and serve immediately in punch cups. (Refrigerate for up to 30 minutes if needed; serve well chilled.)
---
No water oven? Don't worry — we can fix that!