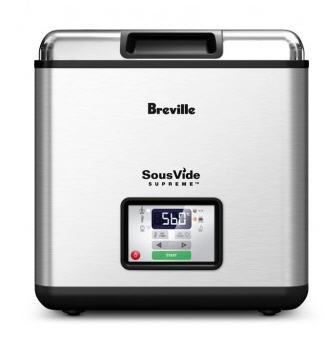 SousVide Supreme is thrilled to announce its partnership with Breville to bring the revolutionary sous vide cooking technique to Australian home cooks.
Breville is a leading brand of culinary products which has grown to become an iconic Australian brand and has enhanced peoples lives through thoughtful design and brilliant innovation, now delivering kitchen products to over 30 countries around the globe.
The Breville SousVide Supreme (BSV600, 220-240 volt) is now available at Australian retailers including Myer, David Jones and Harvey Norman. Breville recognized the need to introduce the sous vide cooking technique to the home cook and found the perfect partnership with the easy-to-use, award-winning SousVide Supreme water oven.
Sous vide cooking is popular in many of the world's top restaurant kitchens. The gentle cooking method involves placing vacuum sealed meats, seafood, vegetables or fruit into a water bath at a precisely controlled temperature for unparalleled succulence and mouthwatering tenderness.
Watch Chef Jeffrey Schroeter, from Cloudy Bay Fish Company in Sydney, Australia, explain the benefits of cooking fish using the sous vide technique and demonstrate how easy it is to cook the perfect White Tuna and King Fish using the Breville SousVide Supreme!
For more information about the Breville SousVide Supreme, visit Breville.com.au
Share This Recipe with Friends!