Rheum rhabarbarum and Rheum rhaponticum are the most common varieties of the Buckwheat family found in our kitchens. Beckoning the arrival of spring, this faux fruit appears in various colors ranging from spring green to ruby red. Native to Northern Asia, rhubarb thrives in colder climates from Spring through Summer. US cultivation began during the early nineteenth century on the east coast and eventually spread west with the settlers, primarily grown in the northern states and southern Canada.
When shopping for rhubarb choose bright, glossy, unblemished and firm stalks. Most rhubarb is sold without the leaves, however if you have your own wild patch; be sure to dispose of the leaves as they are toxic due to large amounts of oxalic acid.
Rhubarb was used in China for thousands of years as a cleansing herb and is a source of fiber, magnesium, vitamin C, vitamin K, calcium, potassium and manganese.
Sweets aside, rhubarb perks up lamb, chicken, pork and fish dishes. It can be simmered into stews, tossed with potatoes and herbs, pickled and stirred into cocktails.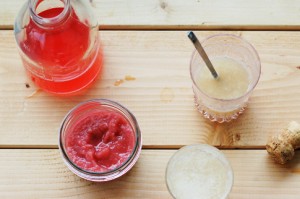 Rhubarb Rose Syrup
Yields: 8 ounces (240 ml)
I choose to use organic and fair-trade sugar in my kitchen. Many organic sugars have large crystals, larger than granulated sugar and much larger than superfine (castor) sugar. Therefore, when using organic sugar over a superfine (castor) sugar in the Sousvide Supreme, you will need to take an additional, yet simple step when prepping the rhubarb. This extra step involves making a simple syrup, aptly named as it is a cinch to make. However, if superfine (castor) sugar is what you prefer, simply skip step 3 of the recipe and toss the sugar and water into the zip pouch with the rhubarb.
When making this recipe, I fill my basket with bright ruby red stalks as opposed to the spring green rhubarb; thus resulting in a vibrant colored syrup and a delicate pale pink cocktail. If green is all you can find at your farmers market, beware that your cocktail won't have the same bellini pink color, however the flavor is still delicious! In the case of the Bellini, color played the leading role in naming the Prosecco Cocktail. After all, we eat and dare-I-say drink with our eyes first.
½ pound (228 g) rhubarb, cleaned, trimmed of leaves & cut into ¼" (0.6 cm) pieces
1 cup (7 oz/ 200 g) organic sugar
½ cup (4 fl oz/ 240 ml) water
1 teaspoon rose water
1. Fill and preheat the water oven to 135 degrees F (57 degrees C).
2. Put the rhubarb into a large (1 gallon/3.8 liter) zip bag/pouch.
3. In a small saucepan heat the sugar and water over medium-high heat, stirring until the sugar is dissolved.
4. Pour the sugar syrup over the rhubarb, use Archimedes' Principle to remove as much air as possible from the pouch and zip closed.
5. Submerge the pouch in the water oven and cook for 2 hours. The contents must be completely submerged to ensure even cooking.
6. Remove the pouch and submerge it in an ice water bath (half ice, half water) for 20 minutes to quick-chill the contents.
7. Strain the syrup through a fine mesh sieve into a clean bottle and stir in the rose water. Keep the rhubarb for the Sous Vide Rhubarb Compote.
8. Store the syrup in an air-tight glass bottle, in the refrigerator for up to 4 weeks.
Sous Vide Rhubarb Compote
Yields: ½ cup (1/4 pint/120 ml))
Rhubarb Compote is versatile in the kitchen. Here we are creating it for our Rhubarb Rose Bellini, however here are some other delicious uses: stir it into yogurt, warm it slightly to pour over pistachio or vanilla ice-cream, place a dollop on panna cotta, use as a filling for hand-pies or add a bit to your next cheese plate.
1. Puree the leftover sous vide rhubarb with 1 ounce (30 ml) of the Rhubarb Rose Syrup using a blender or food processor fitted with a blade attachment.
2. Store in an air-tight jar, in the refrigerator for up to 2 weeks.
Rhubarb Rose Bellini
Serves: 1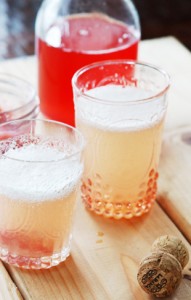 This is a fun spring twist on a classic summer cocktail. The Bellini, created by Giuseppe Cipriani in Venice, Italy during the 1940's. Cipriani named the prosecco cocktail after the Venetian artist, Giovanni Bellini, as the gorgeous color of the drink reminded Cipriani of one of the Saints' togas in a Bellini painting.
1 tablespoon (0.5 oz/ 14 g) Sous Vide Rhubarb Compote
1 tablespoon (0.5 fl oz/ 14 g) Rhubarb Rose Syrup
3 oz (90 ml) prosecco
1. Place the compote and syrup in your serving glass.
2. Top with prosecco and stir to combine.