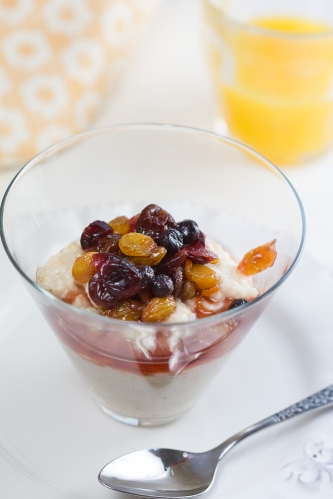 It's sometimes hard to get out of bed on those cold winter mornings. It's even harder still to make time to cook a hot, nourishing breakfast. I am a big fan of oatmeal, but I often don't have time for the hassle of oatmeal. I especially hate having to clean the saucepan after cooking oatmeal. It's not hard work, but time is precious in the morning. So, I decided to experiment and see if I could use my SousVide Supreme to make oatmeal and a fruity topping the night before. That way, breakfast would be ready in a jiffy and there would be no more saucepans to wash up afterwards—and no excuses for not eating right. So I gave it a whirl.
The experiment worked, and the SousVide Supreme proved to me once again just how versatile it is. As it's the New Year, I am trying to live a little healthier. I decided to recreate one of those delicious stewed fruit compotes they serve in fancy hotels. The slow cooking in the SousVide Supreme overnight made the fruit plump up wonderfully, so the fruits were soft, juicy and deliciously sweet. It makes a yummy topping for plain and healthful oatmeal. This compote would also be scrumptious with some natural yogurt, which you can also make in the SousVide Supreme.
Having spent all night in the SousVide Supreme, the oatmeal was perfectly cooked. There was nothing for me to do, but pour everything into a bowl and eat. The other advantage of cooking oatmeal this way is that you can make a portion for everyone. So, if some members of the family are early risers and others get up late, each one will get to enjoy freshly made oatmeal that is perfectly cooked when they are ready. Something tells me that Goldilocks would find the sous vide method of cooking porridge 'just right'.
Ingredients
Serves 2
Oatmeal
1 cup (90g) of oatmeal (quick-cooking rolled oats)
3 cups (710 mls )of water
Pinch of salt
Pinch of cinnamon
Stewed Fruit Compote
¾ of a cup (100g) of dried fruit ( any mix of the following – cherries, blueberries, golden raisins, apricots, cranberries)
2 tablespoons( 25g) of white sugar
½ cup (118 ml) of water
2 drops of vanilla extract
Zest of half a lemon, finely grated
Zest of half an orange, finely grated
Method
Fill and preheat the SousVide Supreme water oven to 155°F or 68°C.
Place a large (gallon/3.8 liter) zip-closure cooking pouch into a baggy rack. If you don't have a baggy rack, you can always ask someone to hold the bag open while you pour in the contents.  Pour the oatmeal, water, salt and cinnamon into the zip-closure cooking pouch, and use the displacement method (Archimedes' principle) to remove the air and zip the seal closed. Once the bag is zipped closed, submerge the pouch in the preheated water bath.
Next, put a (quart /0.95 liter) zip-closure cooking pouches into a baggy rack. Then, pour the dried fruit, sugar, water, vanilla, orange and lemon zest into the cooking pouch and once again use the displacement method (Archimedes' principle) to remove the air and zip the seal closed. Submerge the bag in the water bath alongside the oatmeal.
Six – ten hours later, remove the pouches from the water bath. Give the oatmeal pouch a quick shake and pour straight into two bowls.
Open the pouch with the stewed fruit and spoon the fruit compote on top of the oatmeal and enjoy.