Courtesy of SousVide Supreme Culinary Specialist, Sophie
Makes about 4 cups (240 ml each)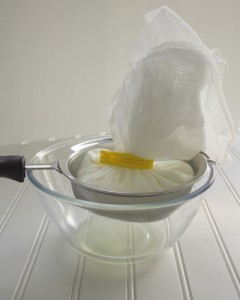 INGREDIENTS
½ cup (123g) plain yogurt, at room temperature
4 cups (960ml) milk
Note: You will also need 4 8-ounce glass, canning jars.
INSTRUCTIONS
Fill the glass jars you are using with water and put them onto the bottom, perforated grill of the SousVide Supreme.  (Raise the grill on a non-rusting baking rack if the jars are very short.)
Fill the water oven with enough water to bring the level to within ¼-inch to ½-inch (6 to 12 mm) of the rim of the jars.  Remove, empty, and dry the jars.
Preheat the SousVide Supreme to 105F/41C.
In a large heavy bottomed saucepan, heat the milk until it reaches 185F/85C on a digital or candy thermometer.
As soon as the milk has reached temperature, remove the saucepan from the heat and let milk cool to 100 to 110F (39 to 43C) on the thermometer. You can speed up the process by putting the saucepan in a basin of iced water, but keep a close eye on the temperature and don't let it to go below 90F/32C, or you will need to reheat it.
Whisk the plain yogurt into the milk and divide the mixture among the glass jars and cover the tops with food-safe plastic wrap (cling film) to prevent lid condensation from dripping into the jars.
Carefully put the jars (without their lids) into the water bath and cook for at least 5 hours.  Position the lid of the SousVide Supreme upside down to reduce the accumulation of condensation that could fall into the yogurt.
Once the yogurt has cooked for 5 hours, remove the jars from the water bath, place the lids and rings onto them loosely, and allow them to cool.  Once cool, tighten the lids onto the jars and refrigerate for a few hours. You can then consume this yogurt as is, or use it to make Shrikhand.
Share This Recipe with Friends!