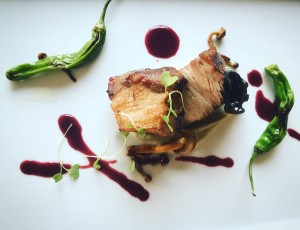 …with mushrooms and blueberry soy reduction
Courtesy of Chef Derrick Peltz (MasterChef competitor 2015)
Serves 2 (4 as an appetizer)
INGREDIENTS
1 slab (8 ounce/228 g) pork belly
For the marinade
2 teaspoons (10 g) salt, or more to taste
1 teaspoon (2.5 g) black pepper, or more to taste
1 tablespoon (7.5 g) cinnamon
1 tablespoon (7.5 g) cayenne pepper
1 teaspoon (2.5 g) cumin
3 whole cloves
1 teaspoon (2.5 g) fennel seeds
½ cup (120 ml) soy sauce (plus a splash more for the blueberry sauce)
¼ cup (60 ml) olive oil
For the Sweet Potato Puree
1 white sweet potato, peeled and diced
2 tablespoons (28 g) unsalted butter
¼ cup (60 ml) cream
For the Soy Blueberry Reduction
½ cup (75 g) blueberries
¼ cup (48 g) sugar
1 splash soy sauce
¼ cup (60 ml) vegetable stock, plus a splash for sautéing mushrooms
½ teaspoon (2.5 ml) sesame chili oil
1 tablespoon (14 g) unsalted butter
For the vegetables
8 shishito peppers
8 wood ear (or your favorite small) mushrooms
4 ounces (114 g) nameko mushrooms
Togarashi (optional)
DIRECTIONS
For the pork
Season the pork belly generously with salt, pepper, cinnamon, cayenne, and cumin.
Put the pork belly into a bowl and add the cloves, fennel seeds, soy sauce, and olive oil.
Cover and refrigerate overnight.
Fill and preheat the SousVide Supreme water oven to 155F/68C.
Take the pork belly out of the marinade and pat dry with paper towels.
Put the pork into a cooking pouch and vacuum seal on the Moist setting.
Submerge the pork belly to cook for 4 hours. Time the rest of the components of your dish accordingly.
For the potato puree
In a large pot on the stovetop, bring water and about a teaspoon salt to a boil.
Add the potatoes and bring back to the boil. Once tender, strain them, and transfer to a blender or food processor.
Season the potatoes generously with salt. Add the cream and the butter and puree.
Discard the boiling water and transfer the puree back to the pot. Hold over low heat until ready to serve.
For the reduction
In a 1-quart (1 liter) saucepot over medium high heat, add the blueberries and sugar.
As the sugar starts to melt, muddle the blueberries.
Add a splash of soy sauce, the vegetable stock, and the sesame chili oil and cook for 2 minutes.
Pour the blueberry mixture into a blender and puree.
Once pureed, pour through a fine strainer or sieve back into the same saucepot and reduce over medium heat.
Once reduced by half, add 1 tablespoon (14 g) of the butter and mix until melted. Hold at low heat until ready to serve.
For the vegetables
In a saute pan on high heat, add a dash of grape seed oil (or any high-smoke-point cooking oil).
 Add the mushrooms and shishito peppers and saute for 1 minute.
Add a splash of vegetable stock and continue to cook.
As the vegetable stock reduces away, add 1 tablespoon (14 g) of the butter add the (optional) dash of Togarashi, for a little kick.
Finish and serve
1. When the pork belly has cooked, remove from the pouch and reserve the pouch juices.
On the stovetop, heat a fry pan over high heat until very hot.
Add a dash of oil to the hot pan and sear the pork belly skin side down. After a minute of searing, add the poaching liquid from the pouch, a little at a time, and baste the pork belly.
Once the skin on the pork belly is crispy, remove and plate.
Share This Recipe with Friends!