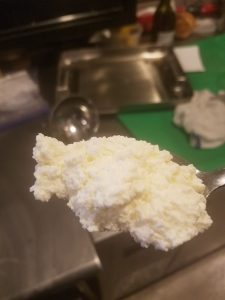 Recipe and photos courtesy of Chris Holland
INGREDIENTS
2 gallons of whole milk
2 tablespoons kosher salt
1-1/3 cups lemon juice.
DIRECTIONS
Remove lifting racks and universal rack from machine.
Pour the milk directly into the SousVide Supreme water oven and set to 200F/93C.
When temperature reaches 200F/93C, allow it to stay at that temperature for 5 minutes.
Pour milk into another container (a large stock pot works well) and add lemon juice and salt.
Stir for 30 seconds.
Strain through cheese cloth.
Serve or transfer to a lidded container and refrigerate.