Maple and Fig Lamb Ribs

… with Goat Cheese and Walnut Dust
Courtesy of Chef Elise Wiggins (Panzano, Denver, CO)
Serves 5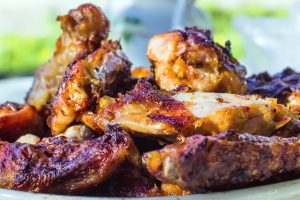 INGREDIENTS
For the ribs
1/4 cup (60 ml) vegetable oil
2 garlic cloves, peeled and minced
4 tablespoons finely (60 ml) chopped rosemary
2 tablespoons (30 ml) fennel pollen
1 teaspoon (5 ml) black pepper
1 teaspoon (5 ml) cayenne, divided use
2 1/2 teaspoons (12.5 ml) salt, divided use
2 half racks lamb ribs
For the fig syrup
½ cup (120 ml) fig preserves
¼ cup (60 ml) maple syrup
¼ cup (60 ml) Champagne vinegar
For garnish (dust)
10 ounces (285 g) young goat cheese, crumbled
4 ounces (113 g) finely chopped roasted walnuts
5 tablespoons (13 g) roughly chopped Italian parsley
DIRECTIONS
Fill and preheat the SousVide Supreme water oven to 134F/56.5C.
Marinate the lamb racks:

In a small bowl, stir together the oil, garlic, rosemary, fennel pollen, pepper, 2 teaspoons of the salt, and ½ teaspoon of the cayenne.
Pat the lamb dry and rub the meat all over with the spice mixture.
Transfer to racks to a cooking pouch and vacuum seal.

Submerge the pouch in the water oven and cook for 18 hours.
Before finishing the lamb, in a heavy saucepan, on the stovetop, combine the fig preserves, maple syrup, and vinegar, and the remaining 1/2 teaspoon each of the cayenne and salt and bring to a simmer, stirring occasionally. Set aside.
Remove pouch from water bath and if not ready to finish, quick chill the pouches submerged in ice water for 20 minutes and refrigerate until ready to proceed.
To finish the cooked racks, preheat a broiler or well-oiled grill to high heat. Brush the racks with the fig syrup all over and sear them until you achieve the desired surface char.
Remove racks, brush again with the fig syrup, and cut between the bones.
Arrange ribs in a stack on serving plates and garnish with crumbled goat cheese, chopped walnuts, and Italian parsley.