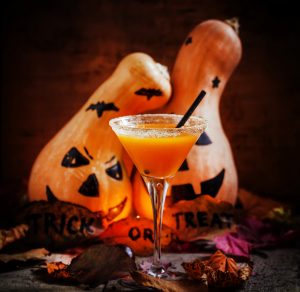 Makes 4 cocktails
INGREDIENTS
For the rim
3 or 4 drops Liquid Smoke
2 tablespoons water
1 teaspoon pumpkin pie spice
1 tablespoon coarse sugar
For the cocktails
6 ounces bourbon
3 ounces Pumpkin Schnapps
2 ounces sous vide ginger syrup
4 ounces white cranberry juice
1 ounce pumpkin puree
Ice
4 orange twists for garnish, if desired
DIRECTIONS
Mix together the pumpkin spice and the sugar and put onto a plate.
Add the Liquid Smoke to the water and use this mixture to wet the rim of four chilled martini glasses.
Invert each glass into the spice and sugar mixture to rim the edge with sugar and spice.
Put all cocktail ingredients into a large shaker or cocktail pitcher with ice and shake or stir vigorously until well chilled.
Strain the cocktail, dividing it among the four glasses.
Garnish each with an orange twist, if desired.