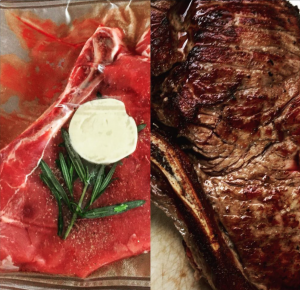 Courtesy of Patrick Delhaye (eenbeetjebeter.be)
Serves 1 or 2
INGREDIENTS
1 (1.25 inch/3cm) bone-in ribeye (entrecote)
freshly ground black pepper
2 generous pats salted butter (divided use)
1 sprig rosemary
DIRECTIONS
Fill and preheat the SousVide Supreme water oven to 126F/52C.
Season both sides of the meat generously with pepper and put into a cooking pouch; put one pat of butter and a sprig of rosemary onto the meat and vacuum seal the pouch.
Submerge the pouch in the water oven to cook for 3 hours.
When ready to finish, on the stovetop, preheat a cast iron skillet to very hot.
Remove the meat from the pouch and pat thoroughly dry.
Add the remaining butter to the skillet and when foamy, sear the meat about 1 minute on each side until nicely browned.
Remove to a warm plate to rest for 5 minutes before slicing and serving.