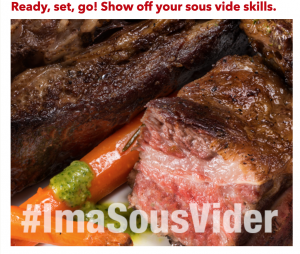 Enter our Instagram Contest! Here are the rules:
Images of food cooked sous vide* and posted on Instagram between November 7 to November 30, 2018, tagged to @sousvidesupreme, #imasousvider, and #sousvidesupreme, are eligible for consideration.
SousVide Supreme will select finalists from those posts on December 1, 2018, and #Repost them to @sousvidesupreme.
Among the selected finalists' posts, the one that receives the most Instagram likes by December 5, 2018 will be the winner and will be featured in SousVide Supreme's email newsletter, and the photo and recipe will be published in our recipe archive at blog.sousvidesupreme.com
Finalists and/or winners will be contacted by SousVide Supreme to get information, images, and permissions prior to publication.
This promotional contest is sponsored by SousVide Supreme and Eades Appliance Technology LLC, and is in no way sponsored by, endorsed by, administered by, or associated with Instagram.
*Contest entrants certify by their entry that they own the image(s) posted and/or have the right to use and share the image(s) submitted.