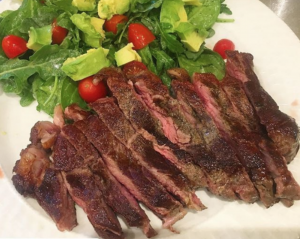 Recipe and photo courtesy of Jaimi Aburto
Serves 2
INGREDIENTS
New York strip steak 1" inch thick and about 10 ounces
2 tablespoons clarified butter for searing
1 tablespoon unsalted butter for prep
Kosher salt and cracked black pepper
2 sprigs thyme
1/2 cup spinach
1 cup arugula
10 cherry tomatoes, halved
1 avocado, diced
1 scallion, trimmed and green parts sliced in rings
For the vinaigrette
3.5 ounces/100 ml organic extra virgin olive oil
1.5 ounces/50 ml white vinegar
1 jalapeño, seeded and diced
¼ cup cilantro, de-stemmed and chopped
1 teaspoon fresh lime juice
1 garlic clove, peeled and chopped
DIRECTIONS
Fill and preheat the sous vide water oven to 127F/53C.
Season the steak liberally with salt and pepper and put into a cooking pouch along with the butter and thyme.
Submerge in water oven and set timer for 2 hours (or up to 4 hours).
Meanwhile, make the vinaigrette:

combine all vinaigrette ingredients and season lightly with salt and pepper
emulsify using a hand blender
taste and adjust seasonings, if necessary.

Put the spinach, arugula, scallions and cherry tomatoes into a bowl and set aside until ready to serve.
When steak is close to finished, preheat a cast iron pan on stove top on high heat.
Remove steak from cooking pouch and discarding thyme sprigs.
Add clarified butter to hot pan and sear the steak on each side for about 1 to 2 minutes or until you achieve a golden brown sear.
Remove from heat and slice.
Toss salad with the vinaigrette and top with avocado; serve alongside steak. Scatter scallion rings over the plate and enjoy!