Duck Confit Sous Vide
Recipe courtesy of Michael LaRoche, Head Butcher and Chef for Bill the Butcher
Serves 2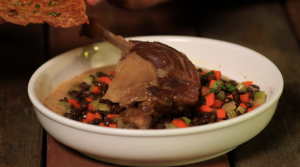 INGREDIENTS
For the ducks legs
2 duck legs
2 tablespoons (30 ml) duck fat
salt and herb cure mix (recipe follows)
For the Salt and Herb Cure (enough for 2 duck legs)
1 tablespoon (15 ml) Kosher salt
1 teaspoon (5 ml) crushed black pepper
crushed fresh herbs such as thyme, bay leaf, clove.
Adjust amounts to have even thorough coverage of the all duck legs you cook.
INSTRUCTIONS
Rub duck legs with the cure and refrigerate at least 8 hours, overnight if possible.
Fill and preheat SousVide Supreme to 168F/75.5C.
Gently rinse the salt cure off the duck legs and pat dry.
Use a small sharp knife to carefully remove the skin from the legs in one whole piece, if possible, and set aside.
Put the skinless duck legs into a cooking pouch with a dollop (a generous tablespoon/15ml) of duck fat per leg.
Submerge the pouch in the SousVide Supreme for 12 hours.
Prior to serving, crisp the duck skin in a skillet over low heat until browned.
Suggested Serving Sides: Lentilles du Puy, Mustard Veloute
SousVide Supreme Meats Bill the Butcher – Duck Confit from SousVide Supreme on Vimeo.