Roasted Okra with Curried Lemon Yogurt
Courtesy of Chef Jason Wilson (Crush, Seattle, WA)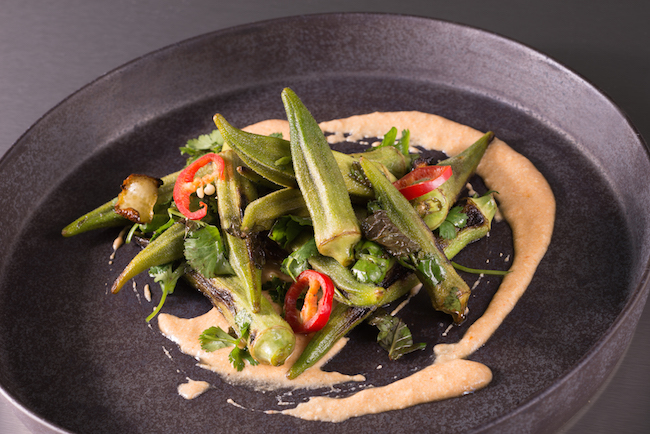 INGREDIENTS
2 pounds (.9 kg) fresh okra, washed, patted dry, and tops trimmed
Kosher salt (divided use)
3 tablespoons (45 ml) extra virgin olive oil
1 tablespoon +1 teaspoon (20 ml) lemon zest (divided use)
1 tablespoon (15 ml) red curry paste (or 2 teaspoons/10 ml powder)
1 cup (240 ml) fresh Greek yogurt
¼ cup (10 g) chopped fresh mint
¼ cup (10 g) chopped fresh cilantro
DIRECTIONS
Fill and preheat the Sous Vide Supreme water oven to 178F/81C.
Toss the okra in ½ tablespoon (7.5 ml) of the salt, 1 tablespoon (15 ml) of the olive oil and 1 teaspoon (5 ml) of the lemon zest.
Put the okra, in a single layer, into one or more cooking pouch(es) and vacuum seal
Submerge the pouch(es) in the water oven and cook for 1 hour.
When cooked, open the pouch(es) and drain the accumulated pouch liquid into a medium bowl and set aside.
Whisk the red curry paste, remaining lemon zest, and yogurt into the pouch liquid to make the sauce for the okra. Set aside for serving.
Pat the okra dry with paper towels (kitchen paper) in preparation for frying
In a skillet, on the stovetop, over medium high heat, add the remaining olive oil and when hot, pan fry the okra for 2 to 3 minutes or until crispy and golden brown.
Season with salt to taste and toss with the mint and cilantro.
Serve on a puddle of the yogurt sauce or serve the sauce on the side.