Recipe courtesy of Sharone Hakman
Serves 4 as a entree; 8 as an appetizer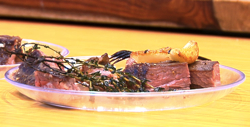 INGREDIENTS
1-1/2 pound flat iron steak

Salt, to taste

Black pepper, to taste

1 tablespoon olive oil

1 large red onion, peeled and thinly sliced

1 tablespoon brown sugar

1 tablespoon bourbon

6 ounces blue cheese crumbles
INSTRUCTIONS
Fill and preheat the SousVide Supreme to 131F/55C.
Season  the steak lightly with salt and pepper, put into a food-grade cooking pouch, and vacuum seal.

Submerge the pouch in the water oven and cook for at least 1 hour. (If you have time, do this the night before and, after cooking, quick chill the steak submerged in its pouch in an ice water bath (half ice/half water) for 30 minutes and refrigerate overnight. Bring the steak to room temperature while you continue with the recipe.)

Put the olive oil into a skillet over medium heat and sauté the onions until caramelized, about 20 minutes.

Add the brown sugar to the onions and stir to coat.  Season to taste with salt and pepper.

Just before serving, deglaze the pan with the bourbon, scraping up all brown bits of flavor.

Transfer the onions to a platter and keep warm.

Wipe out the pan and return to the medium high heat.

Remove the steak from the pouch and pat it dry with paper towels.

In the hot skillet, sear the steak for color and to warm slightly, about 1 minute a side.

Slice the steak against the grain and arrange on serving plates.

Top with caramelized onions and blue cheese crumbles and serve.