Every March, the world of housewares suppliers, manufacturers, and retailers gathers together to strut their stuff. This year's show was the SousVide Supreme's second trip to this mammoth event and since our last visit, my how the SousVide Supreme family of products has grown. The single model water oven (our award winning original SousVide Supreme SVS10L) a suction vacuum sealer, and quart and gallon vacuum pouches at last year's show were joined at this year's show by the SousVide Supreme Demi water oven in five fun colors, the SousVide Supreme for the Home Cook cookbook; a new series of 5 topical sous vide cookbooks; economical roll vacuum pouches; and an affordable chamber vacuum sealing unit, called VacMaster.
And the family continues to grow with the addition of soon-to-be-released new family members, including: the commercial grade SousVide Supreme Chef water oven, available May-June 2011; the SousVide Supreme Zip Sealer, a hand held vacuum sealer and food grade valve bags, available May-June 2011; zipper cooking pouches for liquids and one-pot meals, available April 2011; and a prototype enamel series of the original stainless steel model water oven,
Trade show attendees from across the globe came to see what was up at the SousVide Supreme show kitchen and throughout the day were treated to some exquisite sous vide creations–courtesy of Chef Richard Blais on Sunday and Monday and food tv star Sharone Hakman on Tuesday.
We thought we'd share some of the recipes enjoyed by the crowds there and a few shots of the fun!
Here's Sharone flaming a pan of Tequila Chicken…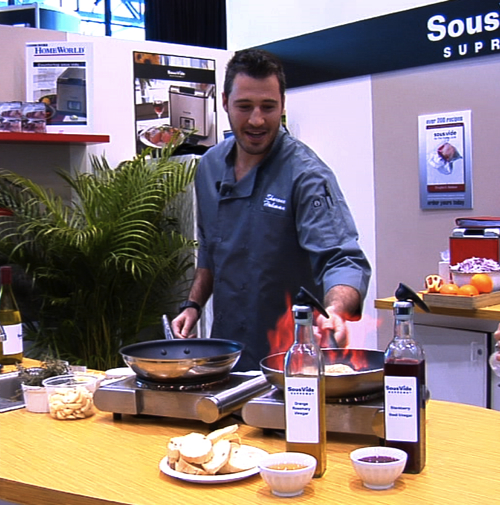 and here's a plate of perfectly medium rare steak just waiting for someone to take a bite…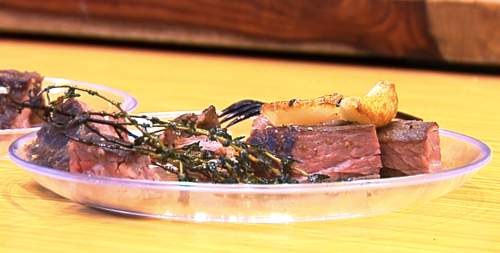 and believe us, there was a crowd of folks, hoping to do so!  The food was just fantastic!  Hats off to Blais and Sharone for a job well done!