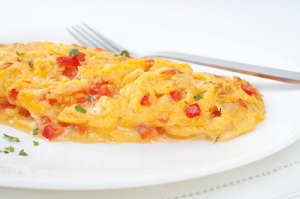 Want to entertain a crowd on a budget and spend it enjoying it yourself instead of slaving away in the kitchen while your guests have all the fun? Throw a Sous Vide Omelette Party! Your guests have fun assembling and cooking their own sous vide omelette and everybody gets his or her version of perfection. Add a big bowl of fresh fruit salad and a pitcher of Mimosas or Bloody Marys and you're set!
Here's what you'll need and how to do it:
Per person (or actually per omelette) you'll need:
1 small zip-closure cooking pouch
3 eggs, well-beaten
salt and pepper
Add-in ingredients of choice
Suggested add-in ingredients: chopped smoked salmon, diced ham, diced turkey, chopped scallions, diced tomatoes, shredded cheeses, small cubes of cream cheese, minced chives, and sautéed mushrooms, onions, bell pepper or hot chili peppers.
Fill and preheat one or more SousVide Supreme water ovens to 167F/75C. (You can fit 16 to 20 individual servings in a standard size SousVide Supreme water bath, so you'll need to invite lots of guests to require more than one machine.)
In a large bowl, beat the eggs (use 3 for each omelet you wish to make) and season lightly with salt and pepper.
Guests each take a zip closure pouch and put 1/2 cup (120 ml) beaten eggs into the pouch, then add 3 or 4 tablespoons (45 to 60ml) of their favorite add-in ingredients.
Use the Archimedes Principle to remove the air from each pouch and zip it closed.
Submerge the pouches in the water oven and cook for 20 minutes, until the eggs are set.
Slide the omelette out of the pouches onto serving plates.
Enjoy with a fresh fruit salad and your favorite tasty adult brunch beverage.