Tzatziki Sauce

Recipe adapted from 6-Week Cure for the Middle Aged Middle, Eades/Eades (Crown 2010)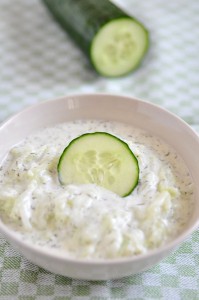 1/2 medium cucumber, peeled, seeded, and chunked
1/2 cup (4 ounces/120 ml) plain yogurt (preferably Greek style)
1 clove garlic, peeled and crushed
8-10 large fresh mint leaves
1/2 teaspoon (2.5 ml) coarse sea salt
1/4 teaspoon(1.25 ml) freshly ground black pepper
1/4 teaspoon (1.25 ml) onion powder
1 tablespoon (15 ml) red wine vinegar
3 tablespoons (45 ml) extra virgin olive oil (Greek if you've got it), divided useJuice of 1/2 lemon
Put all ingredients into the work bowl of a food processor or blender jar and process until smooth.
Taste and adjust seasonings, adding a bit more salt, pepper and/or vinegar to achieve a piquant flavor.
Pour into a container, cover tightly, and refrigerate for 30 minutes or longer to develop the flavors.