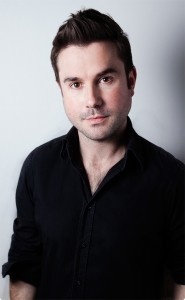 Sous vide cooking is fast becoming a global phenomenon, with the SousVide Supreme now available throughout the US, Europe, and the UK, but also now in markets as diverse as Australia, Malaysia, Singapore, Russia, Israel, and Scandinavia. The widespread adoption of the technique is creating fans among cooks of every skill level worldwide. One is UK photographer (and prolific food blogger) John Loydall, whose fabulous food photographs caught our eye. They are simply food porn at its finest.
Since he isn't a chef by trade–and therefore a lot like the rest of us–we were curious about what drew him to sous vide. We caught up with him this week to ask him if he'd be willing to share a bit of his sous vide-ing experience with our readers. Happily, he agreed, and what follows will give us all some great ideas and tips for upcoming holiday meals!
SVS: Why did you first become interested in sous vide cooking?
JL: It was a combination of watching cookery shows where I'd seen professional chefs using this technique and also when I'd eaten out at restaurants, where I tried dishes like 24-hour blade of beef and eggs cooked for 45 minutes. There was something magical about both the process and the results – I just had to know how it all worked and how they achieved such amazing results.
SVS: What is the most interesting thing you've cooked sous vide?
JL: The pumpkin risotto I cooked last week was a real success. Risotto isn't the first thing that springs to mind when cooking sous vide, but it works really well. I cooked half the pumpkin with the risotto and then roast the other half. When the risotto was ready I finished it off in a pan with the roast pumpkin and a generous chunk of butter. [OK, so we are hoping he will share this recipe with us all in coming weeks, but if you're curious, here's a recipe for Garlic Cheese Risotto that will show you the basic sous vide risotto technique.]
SVS: You are a professional photographer and take exceptional photographs of the food you cook. What is your culinary background?


JL: I've been cooking since I was young, but only began to take it seriously when I had to cook for myself every day when I went to university. Limited funds meant I had to learn to cook with cheaper ingredients. That's not a bad thing though – it makes you think about developing flavor from what you've got available and making the most of leftovers. I also learnt to cook with cheaper, more obscure cuts of meat – something I still like to do nowadays.
I've always enjoyed the process of cooking – the preparation, pulling the different components together and then the final presentation of the dish. I think it often helps to think about contrast in a dish – hot with cold, sweet with sour, soft with crunch – that's what really makes a dish.
When I started working in photography, it didn't initially occur to me to photograph food, but as I progressed I began to see similarities between the two disciplines. Process, contrast, composition and the final presentation of a photo – it really ties in nicely with cookery. When I started photographing food, it immediately clicked – it made sense to me. The colours and textures you get in a dish often make a great photo.
Photographing food has certainly helped my cookery – I have to think about every element of a dish and how it's going to look on a plate. Overcooked food never looks good, especially when you take a detailed photograph of it. Taking photos of your food is a brilliant way to force you to up your game when putting a dish together.
SVS: Are you cooking sous vide for the holidays?


JL: Definitely! Christmas is all about good hearty food and entertaining – serving a meal that has been cooked sous vide is a real treat – especially if you can tell your guests that the food has been cooking for 48 hours – it has a real sense of occasion to it.

SVS: Do you have a favorite holiday recipe that you have adapted to sous vide cooking?


JL: Every Christmas we get a box of pheasants from a local Boxing Day shoot. We spend the day gutting and preparing them – they usually end up roast, casseroled or in a curry. This year I'll be cooking sous vide pheasant. Game meat can often end up a little on the dry side, so cooking sous vide makes perfect sense – locking in the moisture and flavor and requiring only a brief sear in the pan afterwards. I think that's the meal I'm most looking forward to this Christmas.

SVS: OK — we are intrigued! You'll have to promise to blog about it and let us all know how it turns out. Cooking game birds is tough traditionally and sous vide makes it so simple and foolproof, as it does for many foods. Which food group do you think benefits most from sous vide cooking?


JL: Well – meat is the obvious choice here – the control you have when cooking steaks is incredible and slow-cooked (24hrs+) meat takes on an incredible texture, when cooked with the SousVide Supreme. But for me the real revelation has been vegetables – the first thing I cooked sous vide was carrots – nothing complicated, I just sliced them lengthways and cooked them with a little salt and pepper and some butter. The firmness and flavor was a real surprise – they still had a decent bite and had so much more flavor than boiling or steaming them. I really like the way vegetables keep their shape when you cook them sous vide – if you take care prepping your veg it really pays off when you plate up – they still look great.
SVS: If you were a novice cook, what would be you 'go-to', 'never fail' sous vide dish to impress?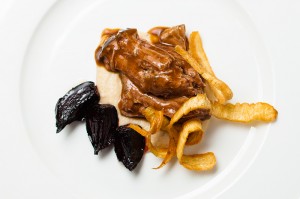 JL: I think I'd go for a cheap cut of beef – maybe brisket or flank. Cooked low and slow for 48 hours. You really don't need to be too precise with the timing, so you can serve it whenever the rest of your meal is ready. The great thing is, you're guaranteed a beautiful, fall-apart piece of meat that everyone will love and it hasn't cost you the earth. Finish it off in a pan or just coat it in a sauce and you've got an amazing dish. Keep it simple – serve with oven roast potato wedges and maybe a simple salad. It doesn't need to be complicated – once you've got that meat cooked to perfection you don't need to do much more to create something pretty special.
SVS: If you were a novice cook and wanted to impress family or friends during the holidays, what would you attempt with sous vide cooking to blow the crowd away?


JL: I'd certainly take advantage of the way you can cook multiple dishes sous vide at the same time. Not necessarily a Christmas dish, but I think a fish course always adds a special touch to a meal. For the fish course – sea bass with sliced fennel and orange – reasonably light, but sets you up for the main course. Fish cooked sous vide is a pleasure to eat – once you understand the timings you're guaranteed perfectly cooked fish.
For the meat course – something with a bit of a twist – sous vide duck with vanilla and lime creamy mashed potato. I'd make a brandy and port-based sauce with a touch of star anise and cinnamon to give it that Christmas feel and then parsnip crisps to add textural contrast. [OK, John, we need these, too!!]
One of the great things about cooking sous vide is that it frees you up to concentrate on your sauces and other side dishes – a meal like this means you can really get that all-important sauce perfected, without having to rush when you're ready to serve.
I think with a meal like this you can tailor it to your skill level. If you're just starting out, you can still get the same results with the fish and meat, but maybe simplify the veg. It will still be impressive that you've managed to cook fish and duck to perfection. If you're a little more competent you can really elaborate on the other ingredients and create something extraordinary.