Rack of Lamb with Mixed Vegetables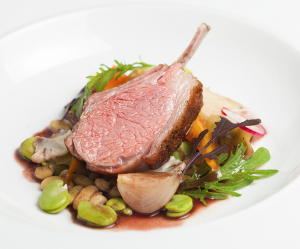 Courtesy of John Loydall – Food blog
Serves 2 to 4
INGREDIENTS
For the lamb
1 rack of lamb (6 to 8 bones)
salt and pepper to taste
1 bay leaf
1 sprig rosemary
2 or 3 sprigs thyme
For the vegetables
3 carrots, peeled and sliced lengthwise
4 shallots, peeled and quartered
2 baby leeks, washed well, trimmed, and sliced
3 baby cauliflowers, washed well and trimmed
½ cup (60 g) dried broad (fava) beans
½ cup (60 g) dried flageolet
2 radishes, washed well and trimmed
Leaf lettuces – rocket, mustard, etc
½ teaspoon (2.5 ml) each salt and black pepper, or to taste
For the sauce
3 cups (720 ml) lamb stock (make your own or buy a good gel or cube)
1 onion, peeled and chopped
1 stalk celery, trimmed and chopped
2 carrots, peeled and chopped
1 leek, washed well, trimmed and chopped
1 bay leaf
2 or 3 sprigs of thyme, stripped for leaves
3 star anise pods
15 whole black peppercorns
3 shallots, peeled and chopped
1 tablespoon (15 ml) olive oil
½ bottle (375 ml) red wine
INSTRUCTIONS
Fill and preheat the SousVide Supreme to 183F/84C.
Put the vegetables (carrots, shallots, leeks, and cauliflower) into a large cooking pouch and vacuum seal.
Submerge the vegetables in the water oven to cook for 1 hour.
While the vegetables are cooking, start the sauce:
In a pan on the stovetop, gently sweat the onion, celery, leek and carrot in a tablespoon of oil until softened – about 15 minutes – don't allow to brown too much.
Add the lamb stock, bay, thyme, star anise, and peppercorns and cook for 1 hour over a low flame. Don't allow it to boil.
When the vegetables in the water oven have been cooking for about 30 minutes, in a separate pan fry the shallots until softened.
Add the wine and allow the wine to reduce over a low heat for 30 minutes. (Finish sauce in step 8 below.)

When the vegetables have been cooking for 1 hour, reduce the temperature of the SousVide Supreme to 140F/60C, by adding cold water or ice cubes.
Put the rack of lamb into a cooking pouch with its herbs and seasonings and vacuum seal.
When the temperature of the water bath has dropped, submerge the lamb in the water oven to cook for 1 hour of cooking, keeping the vegetables in the water to keep them warm.
Put the broad beans and flageolet into a large pot of boiling water and cook until tender, about 1 hour. (When cooked, drain and hold to add to the sous vide-cooked vegetables at plating.)
Meanwhile, finish the sauce:

Strain the lamb stock into the pan with the red wine and reduce further, cooking for another 30 minutes. Don't allow it to boil.
Strain the sauce to remove the shallots and skim any froth from the surface.
Reduce the sauce further for another 30 minutes. (Note: If you cooked using a stock cube you may need to thicken the sauce slightly using a teaspoon of sauce flour mixed in water. A cube of butter to finish it off won't do it any harm either. If you want to sweeten the sauce, consider a teaspoon or 2 of redcurrant jelly.
Season and taste your sauce. When it tastes and looks good, it's ready to go.

After 1 hour in the SousVide Supreme, remove the lamb from the water.
The lamb then needs to be seared in a hot pan on the stovetop just long enough to add some colour and texture to the surface of the meat, about 1 minute.
Cut the rack of lamb into chops and serve with the beans and the vegetables (straight from the pouch) with the sauce.